Casey Ashley Wins Bassmaster Classic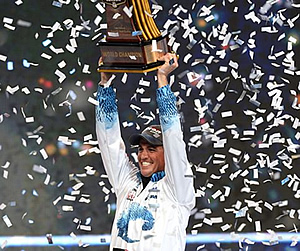 "Then Saturday night, I was lying in bed and the (country music) song 'Why Lady Why?' kept going through my mind. So I asked myself 'Why do I keep doing that?"
So Casey made the choice to stick with his homemade lure all day on Sunday. The weather conditions were perfect for his technique… "Rainy and overcast".
Sitting in 5th place going into the last day, Ashley needed to bring in a big limit if he was going to have a shot at the title.
When the smoke cleared on that final day, Casey Ashley brought a limit to the scales that weighed 20.3 lbs securing his win by over 3 lbs ahead of 2nd place finisher Bobby Lane who also made a big move up the leaderboard.
Ashley did what many thought couldn't be done, not only did he make a big comeback to win the Bassmaster Classic, but he did it in his own back yard on his home waters.