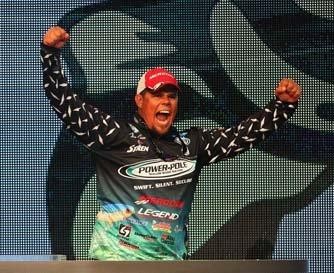 Chris Lane
takes over the lead on Day 2 of the Bassmaster Classic with a moster sack weighin 19 lbs. 4 oz. for a total weight of 35 lbs. 8 oz. When asked if he's worried about anyone on day three his comment was "Kevin Van Dam, he's still in it"…
One pound behind with 34 lbs. 8 oz. is
Greg Vinson
with 34 lbs. 8 oz. Rounding out the top three with a big come back is
Alton Jones
sitting in third place with 31 lbs. 11 oz. of largemouth bass. KVD was the last pro to weigh in, made the cut in 18th place and bumped out Mike Iaconelli who was sitting on the bubble. With many big bass still on beds and many anglers claiming to know where they are set up, tomorrow should be a real slug fest.
Leader Board
DAY 1 Highlights
Keith Poche
leads Day 1 of the Bassmaster Classic with 17 lbs. 13 oz. anchored by a 6 lb. 13 oz. largemouth bass that was Big Bass for the day. Poche was born and raised in Natchitoches, La., and has come home for his first Bassmaster Classic appearance.
Just 1 oz. behind in Second Place is
Greg Vinson
. Who according to the blog on
Bassmaster.com
"has found a hot spot".
Dustin Wilks
sits close behind in Third Place with 16 lbs. 9 oz. Only 5 ounces separates 4-8th place, so it's really a tight race going into Day 2.
Keith Poche, at home in Louisiana
Born and raised in Natchitoches, La., Keith Poche has come home for his first Bassmaster Classic appearance.
"I'm so proud to be here for my first Classic," said Poche, who left home years ago to attend college in Alabama. "I can't wait to walk across the stage and hopefully hold up some big, giant bass for my family and friends."
He said his many relatives and friends have told him they'll sit together to form a Poche cheering section at the CenturyLink Center in Bossier City for the Feb. 24-26 weigh-ins.

Arriving in Louisiana in early February, Poche stayed with family, ate his fill of crawfish and caught up on the local news. In Natchitoches, he was perfectly staged for the Feb. 17-19 practice, the first time in almost two months that Classic competitors were allowed on the Red River.
Monday, on the road to Shreveport to officially check in for the competition, he said he was happy enough with his practice.


"I didn't catch much of size, but I know they live there, the fish are there," he said after his three days of hunting bass. "The weather was just bad — rainy and cold — and the water didn't get close to the mid-50s. It was a slow week. I think it's going to be one of those deals when the fish show up for the tournament. I think it's going to be good."
Picking the "right" area is key, he added. That means an area where the bigger fish have moved in, he said.
For competition, the only condition he expects to be different from practice is a higher water temperature.
"We'll still be catching them in dingy water — that won't change," he said.
Poche will be fishing the Friday-Sunday Classic in his native state, but he doesn't claim a long history on Classic competition waters. The Red River bass fishery as it is known today didn't exist until a series of dams were constructed from 1977 to 1994, according to the Red River Waterway Commission.
Poche was about 17 in 1994, and he left home for college soon afterward. For most of his youth, he and his brother usually fished from a small boat on Cane River Lake, about two minutes from his Natchitoches home. They ventured to other fisheries. Only when someone with a big boat took him would he get to go out on the new bass fishery made possible by the series of dams on the Red River.
"I don't have a ton of experience on the river," he emphasized. "But Louisiana fishing is Louisiana fishing. I learned to fish in swamps, bayous and ponds, and in lily pads, stumps and cypress trees. That'll help me on the Red."