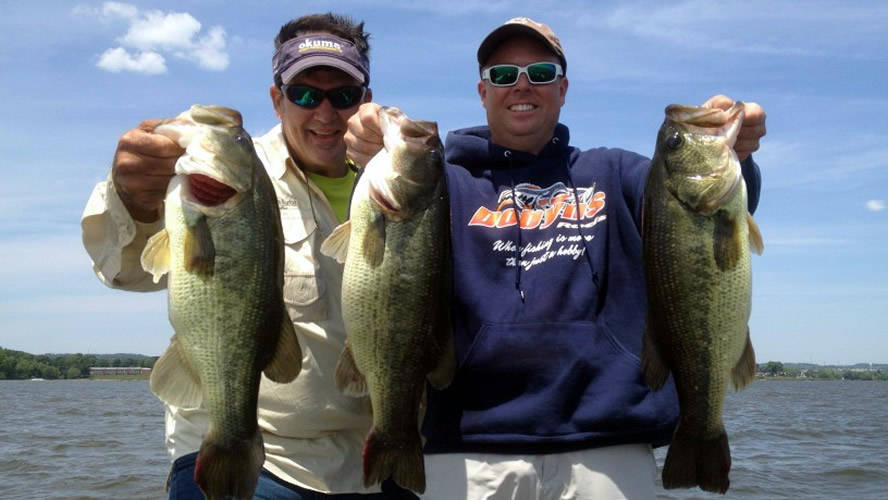 Have you ever been a guided bass fishing trip? If you haven't, you might be missing out on some of the best fishing around the country. While the rest of us are holding down the typical 9 to 5 job, these guys are on the water almost every day… they have to… because it's their job.
Now before you head out and book a trip, take some time and do your research. When selecting a guide, ask for references and make sure to contact them and find out how they liked their fishing experience. Not all guides were created equal and some should seek another line of work.
After you've done some research and have decided to contact a guide, think about what kind of experience you want to have on this trip. Are you going out with a fishing buddy, or maybe taking one or more family members with you. Are you combining the trip with a vacation and if so timing might be an important thing to discuss. Weather can change things in a hurry so it's best to be flexible when booking a trip.
Be sure to talk to your guide about where and how you will be fishing. If you are going to bring your own tackle, discuss it with your guide upfront so they can fill you in on what you might want to leave at home. No sense bring finesse gear if your guide plans to take you into heavy cover.
One former BASSIN' USA Prostaff member Tom Lester had this to say about fishing guides:
"If you have had trouble catching fish lately, have not been fishing in a long while, or have never been fishing, I have some sound advice for you…..call a guide. Recently, I have been struggling in my quest to catch the ever elusive, black bass, on our local fish haven, Richland-Chambers Reservoir. Rather than sell my boat and all my gear out of frustration, I opted to call a friend of mine, Stan Lawhon, who guides on Richland-Chambers Reservoir.
Stan has been guiding for three years. He has developed a reputation as a personable guy who enjoys going out and catching fish and helping other do the same. We had a great day on the water; we caught some fish, I learned what I needed to be doing, but most importantly, we had a great day on the water. The whole experience was fun and it rejuvenated my confidence in my ability to catch fish. I simply needed a little help.
Although I am far from being an expert, I have been bass fishing for a number of years. I needed someone that teach me a new technique or two and show me a few new places to catch fish this time of year. I accomplished both of my goals fishing with Stan.
Guides serve a wide range of anglers. They can help you learn fishing strategies, fishing techniques or proper lure presentation, just to name a few. If you have never done much fishing, I would strongly suggest going fishing with a guide a few times to learn how to fish correctly, and whether or not you like it all. If you do like it, then is the time to go out and buy your fishing gear, not before. If you wouldn't buy a car without trying it out first, why would you spend a bundle of money for fishing gear without knowing if you like doing it or not?
For the weekend angler, such as myself, you can pick up one or two little hints that might help you catch more fish. Serious tournament anglers look at it like this, how many times have you seen a professional sports team on television without a coach on the sidelines? Everyone can benefit from a little coaching from time to time."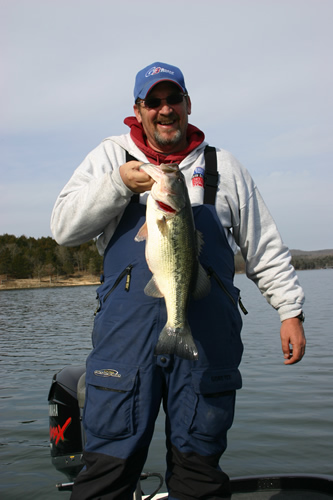 So how much does a trip cost? Obviously rates are going to vary depending on the part of the country you're from, but usually are reasonable. Many guides will offer full or half day trips, so if you don't have all day, you can opt for the shorter trip.
Some guides will require that you use live bait (in case the fishing is slow), or bring it along if you plan to use artificially lures. Usually bait costs extra and most guides will tell you that up front.
Some guides provide drinks and snacks while other will tell you "you're on your own". Always best to be prepared, pack what you need, but try to keep carryon items to a minimum. Again, the best bet is to ask your guide in advance.
If you're a newbie, there are three items that you're going to want to make sure you have with you:
1. Sunglasses (Preferably Polarized)
2. A Hat
3. Sun screen/block
So next time you're a planning a trip or a family vacation, take a look at what lakes are in the area you are going and see if you can squeeze in a guided trip. What better way to spend time with the family than some time on the water. Although most guides can accommodate more than one or two anglers on a trip, and tackle is almost always provided, it's always best to confirm before making an assumption.
Here are a few great guides we recommend:
Tom Reddington – Lake Fork, TX http://www.lakeforkguidetrips.com/
Don House – Table Rock Lake, MO http://www.bransonfishingguideservice.com/
Hugh Crumpler – Stick Marsh, FL http://www.hugh-crumpler.com/