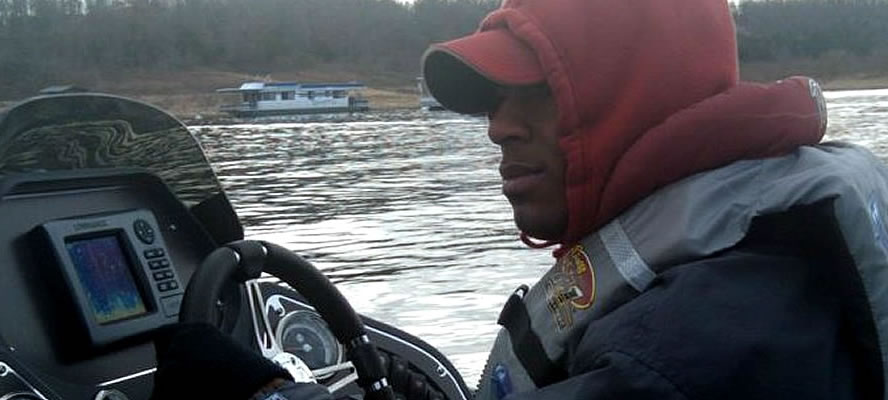 The months of November and December for most folks in the Upper Midwest "football season & deer or duck hunting" means not many people are thinking about bass fishing this time of year. Wintertime bass fishing is actually one of the easiest times of the year to fish because the fish are very predictable as far where they will be; the key is how to get them to bite.
Wintertime bass fishing means deeper water fishing and that also means slow and small presentations. If you think you are going to go out and throw ¾ oz spinnerbaits and move them real fast as you do in the summer you're not going to get a lot of bites. In the winter, I prefer a small 1/8 oz JD Lures junior jig with a small pork trailer. The pork will help slow the fall down and bass seem to hold on to it longer than plastic trailers.


A 4 ¼ "JD Stick on a Carolina rig or a drop shot rig (if the fish are suspended over structure) is another option. If there's some cleaner water then I use baits like the IMA Lures Foxy Fry jerkbait on fluorocarbon line. The key to this bait is keeping it down in the strike zone and let it suspend. A Tabu Tackle "Tiny Tim" swimbait is another great option because during the winter the bass are not feeding very often, and the baitfish they are feeding on are very small. The Tiny Tim is a perfect setup to use on a drop shot rig with light line and a light sinker. The key to all of these baits is that they are all downsized versions in these classes of lures. You are not going to get a lot of bites this time of year but with the smaller lures, you will get a higher percentage of hookups, rather than you using larger lures.
Wintertime bass fishing can be some of the most rewarding catches. If you use the lack of pressure, easily predictable locations of the bass, and a small finesse presentation, you will be catching fish while others are at home watching TV. The biggest question that I get about winter bass fishing is where to fish. An area with quick access to deep water is the best place to start. Places like bluff walls, main lake humps, drop-offs, and the deepest end of main lake points, etc., are what you want to look out for in the winter months. If you live on a river system these patterns will work there as well, but the main thing about river fishing at this time of year is the current. Winter bass don't like a lot of current because it makes them use a lot of energy, so look for back bays, chute & canals that have the same deeper water features but lack of main river current.