To the marine or auto mechanic, his tools are his lifeline. Without using quality tools to get the job done, his efforts become futile. In order to succeed in business, he has to depend on those tools to hold up to the pressure of daily, relentless use. For a professional bass angler, his fishing rods are the tools by which he makes his living. They too, must be dependable and hold up to the rigors of competitive fishing at the professional level.
As a professional angler, it has been a long-time dream of mine to develop a line of rods that are specific to the individual purpose for which I use them to make my living; a line of rods that are designed by me, and built from the ground up, to perform a specific function in the competitive bass fishing arena. Rods that are consistent and have the same feel, no matter how many of them you have. In other words, develop my own tools to get the job done in any condition, on any body of water, anywhere, anytime.
Last year, with the help of Quarrow, a division of Two Seeds rod manufacturing company, I began to realize my dream. Two Seeds had been manufacturing high quality fishing rods for several companies for over fifteen years. Last year they launched their own line of rods, while continuing to build rods for other companies.
Quarrow rods, as they are known, have made a big impact in the highly competitive rod industry in the United States, as well as, overseas and in other countries in the western hemisphere. They have earned the reputation of building high quality rods available at a reasonable price.
OT Fears and Tom Lester Field Testing the Dream Catcher Series of Fishing Rods
Simultaneously, Quarrow and I began a year long endeavor of developing a signature series of rods, built to unparalleled criteria and specs to meet the needs of professional and serious bass fishermen around the world. This series of sixteen casting rods and six spinning rods, known as the Dream Catcher series, is unsurpassed in quality and detail.
Each model was designed, and thus labeled, for a unique function of bass fishing. Every aspect of each rod was custom designed, tested and re-tested to make certain that it would meet the needs of the bass angler. Nothing was left to chance, not even the aesthetics of the rods. Each rod was critiqued and subtlety "tweaked" to make sure it performed optimally, yet still be affordable. After months of meetings with engineers, fellow pro staff members, field testing and testing again, Dream Catcher was born.
These fishing rods are part of a bass fishing system. There is no guesswork involved in choosing which rod to use for a certain technique. All Dream Catcher rods have a nomenclature or use printed right there on the blank. There are cranking rods, a Carolina rigging rod, worm rods, pitching rods, etc. Although each rod is designed for a specific function, they can be used for other applications, too.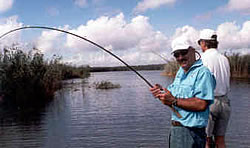 The Dream Catcher rods have several other unique features. The grade "A" Portuguese cork handles have a unique, comfortable design to reduce hand and arm fatigue and assist you in holding on, particularly in cold and wet weather conditions. The handles are cut just a little shorter than most others so it doesn't hit you in the chest while moving it from one hand to the other. This helps eliminate problems casting and fighting fish, especially if you are wearing heavy clothing or raingear.
These rods were built with more eyes on them than other rods on the market. This helps the line feed off of the reel better while casting by preventing the line from "slapping" the rod while traveling through the guides. It also keeps the rod from turning in your hand while fighting that big bass. The guides frames are built from titanium to ensure strength, light-weightiness and durability should you have to straighten out a bent guide.
All Quarrow rods, including the Dream Catcher series, are hand splined by a technician at the plant. Hand splining ensures the angler that the guides are placed on the "sweet spot" of the blank, utilizing the full potential of the blank. This is why all Quarrow rods of the same size and action feel the same. You never have to worry about two or three of the same rods having two or three different feels, they are consistent.
Like all Quarrow rods, Dream Catcher rods, come with an unconditional, lifetime warranty. In the unlikely event a Quarrow/Dream Catcher rods should fail, simply return it to an authorized Quarrow dealer or to the company for a replacement. These rods are everything I've ever dreamed of in a bass fishing rod. That's why I choose to name them the Dream Catcher series. I hope you will enjoy fishing with them as much as I enjoyed designing and perfecting them.
Until next time, enjoy the Texas outdoors