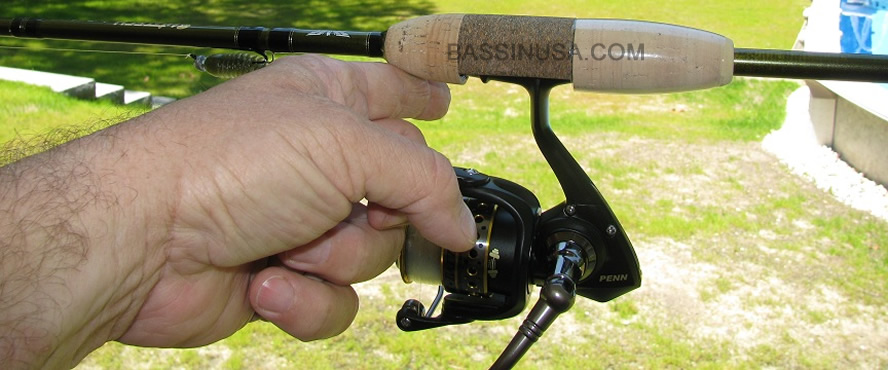 Testing Conditions:
I paired up a Penn Battle 2000 Spinning Reel with #8 Berkley Trilene XL on the EliteTECH ESMS63MH-F to make up the combo.  I fished jigs, T rigged worms and soft jerk baits in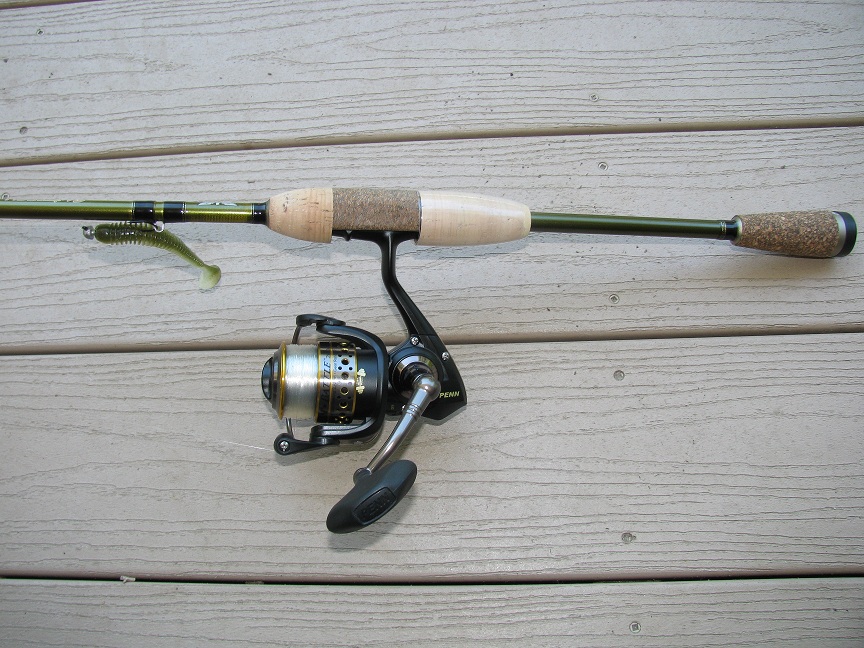 water depths of 4 -20 feet for bass of all species in lakes and slow moving rivers.  I used it in rain and in dry conditions with temperatures varying of about 60 -85 degrees.
Casting:
The full grip and quick tip lent itself to snap casting with this combo.  I got decent distance and was surprised by the accuracy for a spinning outfit.  The tip loaded with 1/8 jigs, lighter than recommended for the rod.
Sensitivity:
The sensitivity was pretty decent.  I was fishing light lures for a med heavy outfit and it didn't disappoint.  The tip and grip made the difference.
Power:
Make no mistake about it, even with the fairly light tip, this is a brute of a stick!  It has backbone to move large fish off of the bottom and the power to turn them when they are headed for the weeds or wood!  I felt in control of every fish I hooked on this combo.  Hooks are set with a sweep or a hammer set.
Durability:
I have about ten trips with EliteTECH ESMS63MH-F, and the finish and components appear as new as the day I received the rod.
Design/Comfort:
Grip! Grip! Grip! I love the grip, really love the grip on the EliteTECH ESMS63MH-F.  It fills my big hand and conveys any vibration that comes through the rod.  The balance point with the 2000 reel is right at the front edge of my index finger of my hand which makes the rod feel lighter than it is.  No fatigue from fighting the weight of the front of the rod, due to the balance point being too far forward.  You can fish this rod all day.
Applications:
The sky's the limit with the EliteTECH ESMS63MH-F.  T-Rigged worms, shakey heads, small and medium sized jigs, senkos, jerkbaits, small grubs and swimbaits, even a slider are all welcome.  It loads with a light weight, but has the shoulders and strength to get into a street fight with a green or brown brawler.  I like the length, since I don't care for a long stick when fishing jigs or worms.
Overall Thoughts:
The EliteTECH ESMS63MH-F is a wonderful rod for the money.  It is priced right, well assembled with a terrific action and good looking to boot.  It's an all-round rod that can be used for a variety of techniques and comfortable to fish all day.  I'd love two more of these as it has become an "American Express Rod", one I don't leave home without!
 
Ratings
Construction/Quality
9.00
Performance
9.00
Price
9.00
Features
8.00
Design/Comfort
10.00
Application
9.00
Total Score
9.00