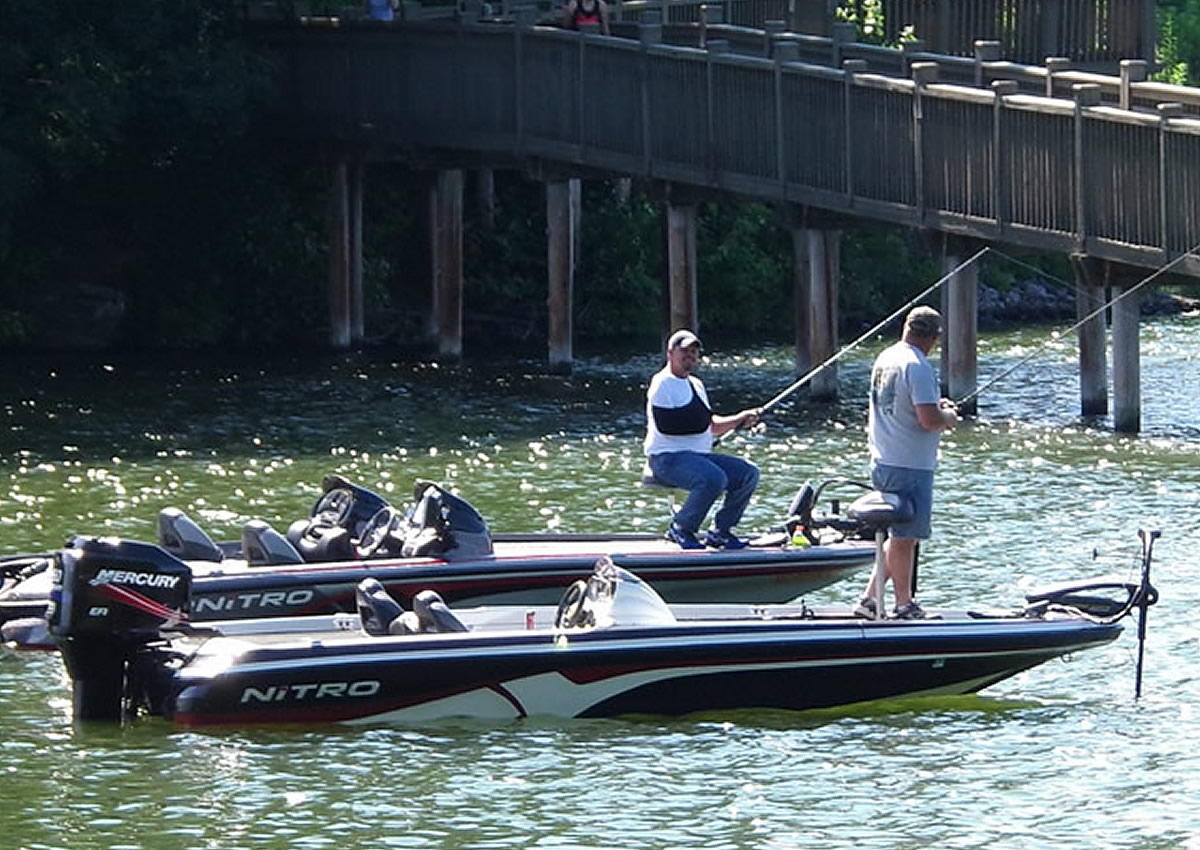 While most youngsters are enjoying school being out for the summer, there is another type of school going on, summer school. I don't mean your traditional classroom education type of summer school, I am talking about summertime schools of sand bass fish and hybrids. The action is fast and fun. Richland-Chambers reservoir is loaded with sand bass and an abundant supply of food for them to eat, shad.
Each year about this time, the "sandies " can be found chasing shad to the surface and create a feeding frenzy that literally makes the water boil. They are a blast to catch, even for we "serious bass anglers".
I especially like to take my daughters, Tatum and Megan, for an afternoon of fishing. I do not know of a better way to capture the interest of a youngster than to get them out on the water and let them catch fish, one after another. They love it. Often, I do not even fish myself…I can't. I'm too busy taking off their fish. I have hooked both girls on the sport of fishing by taking them sand bass fishing. The key to kids and fishing is catching fish.
The best way to catch these guys is with a chrome slab or chrome and black Rat-L-Trap in the ¼ or ½ ounce size on a medium action rod with 15 – 20 lb. line. If you find a school of fish surfacing or with your electronics, throw either of these two baits and chances are you will get bit. Look for sand bass to school in open water where there is a hump or old pond dam.
The birds are also a good locator. They will "pe bomb" the surface, feeding on shad as the sand bass run them to the top of the water. Watch for birds in a large group feeding and you can bet there are fish under them. Be careful, however, not to run over the area the birds are feeding on with your boat or you will scare the fish down below the surface making them harder to find.
If you find fish schooling on the surface, and you get tired of catching smaller fish, try getting a bait down deeper. The larger fish will often lie under the smaller fish. Sometimes I will use a DD14 or DD22 shad colored crankbait by Norman Lures to get down to the big 'uns. I have caught several large hybrids by doing this. The bite is not as fast, but the fish are usually quite a bit larger.
I have found that the best times for fishing the sand bass is early in the morning and late in the afternoon. They school more during these times of day more than any other. Besides, it is more comfortable for the fisherman, too.
If you head out to the lake this time of year, be sure and take along plenty of water. It gets hot and you can dehydrate quickly. Wear sunscreen and protect you eyes with good sunglasses. Be sure to wear your personal floatation device and operate your boat in a safe and courteous manner. If you don't have a boat, call a guide like Stan Lawhon or Mike Guide service in Corsicana, Texas. They will glady get you on some fish. Good luck and good fishing.
Until next time, enjoy Texas outdoors.