Daiwa Samurai Braid
55 lb Test/10 lb Diameter
Reviewed by Johnnie Crain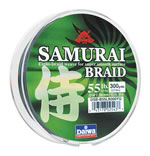 The Samurai Braid can take a beating and if you're strong enough, you can not only catch some nice fish, but also bring in a heavy piece of bottom cover and salvage your lure.
I especially like the limpness of the line and I am looking forward to using it when fishing top-water lures this summer.
The bluish/gray coloring is ideal for the slightly murky waters we fish in Iowa. Of all the Braids I have field tested, Samurai Braid is the only one I can tie a straight clinch knot and not have it slip!
This wonderful line will pay big dividends for us this summer, as we can cast right into the thickest cover where bass love to congregate in the heat of the day.
Ranking 1 – 10
(1 = poor, 10 = Excellent):
Strength: 10
Limpness: 10
Color: 9
Cast-ability: 9
Durability: 10
Overall Ranking: 9.6
I give Samurai Braid a big thumbs up! I can't find anything I don't like about it… learn more
Daiwa Samurai Braid
55 lb Test/10 lb Diameter
Reviewed by Kevin Springer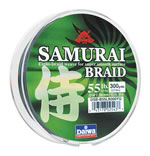 I'll be the first to admit I have never been a big fan of braided line, so I wasn't expecting to find anything different with the Samurai Braid.
At the time I received the line, the fish here on Kentucky Lake were in the first round of the spawn. The fish were holding tight to buck brush which made it a perfect time to put the Samurai Braid through the paces.
After spooling up, the first thing I noticed about this braid, it seemed much thinner and more supple than other braids I have tried. The 55 lb Samurai had the diameter of 10lb mono and the sensitivity of fluorocarbon. It casts very well and has significantly less line noise on retrieve. The line held up to the abuse of pulling fish out of heavy cover that would have destroyed regular line.
My overall rating of the Daiwa Samurai Braid:
Size/Diameter: 10
Sensitivity: 10
Castability: 10
Line Noise: 10
Overall Ranking: 10
If you're a fisherman who uses a lot of braided line, give Daiwa Samurai a try, I think you will be as impressed as I was… learn more