Most anglers fish them using a Texas rig. I like the Texas rig with the weights snugged up against the bait rather than slipping up and down the line. This is because I primarily fish them in the brush. The "fixed" weight doesn't seem to hang up as much as one that slides up and down the line. I use a 4/0 or 5/0 wide gap hook when fishing tube jigs.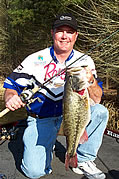 In my opinion, Strike King Lures and Gambler make the best baits. They are both scented and hold up to the rigors of tournament fishing quite well. Other companies also have a variety of tube baits available. I like to use the watermelon and green pumpkin colored tubes most of the time. In clear water, I like white or shad colored baits. For a different look, I will use some Spike It dye on the end of my tubes. Sometimes, the little different color on the end of the bait will trigger a strike by making it show up better in the water.
Depending of the depth and thickness of cover I am pitching into, I use a 3/16 – 3/8 ounce weight on a medium heavy or heavy action worm rod. I use my TP 3000 C Abu Garcia high speed reel with 20# P Line to take up slack quickly for hook sets and to get the fish out of the cover before it gets me hung up. I am convinced that the high speed reel has helped my "bite to catch" ratio increase.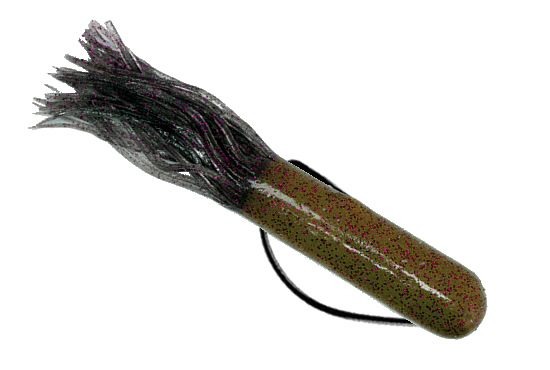 Last spring while fishing a BASS Central Invitational in Eufaula, Oklahoma I made a discovery that made the difference for me in making a check or not making a check in the tournament. The lake was coming up fast, as much as a foot or more per day. The bite was slow and strange. I was catching a few fish in practice on the tube jig, but had trouble getting them to hit it aggressively enough to detect the strike before they dropped it. On the last afternoon of practice I tried a new device especially designed for big tube jigs, a tube rattle by H&H Plastic Rattles.
This rattle is about ¼" in length and big enough to snuggly fit into the tube without falling out. It is large enough to produce effective sound, yet small enough that it does not interfere with setting the hook and getting good hook penetration in the fish's mouth. It is the perfect size for the new, larger tubes on the market.
The next time you are in the tackle store or department, look for and try some of the big flipping tubes. Use them in the same place you would use a jig or plastic worm. Start off with one or two colors and see how you like them before investing a lot of money in them. Also look for some H&H rattles or other rattle inserts for soft plastic tubes. If you have trouble finding them, you can call them at 501-847-2135 for the dealer nearest you. They really made a difference for me last spring.
Until next time, enjoy the Texas Outdoors.