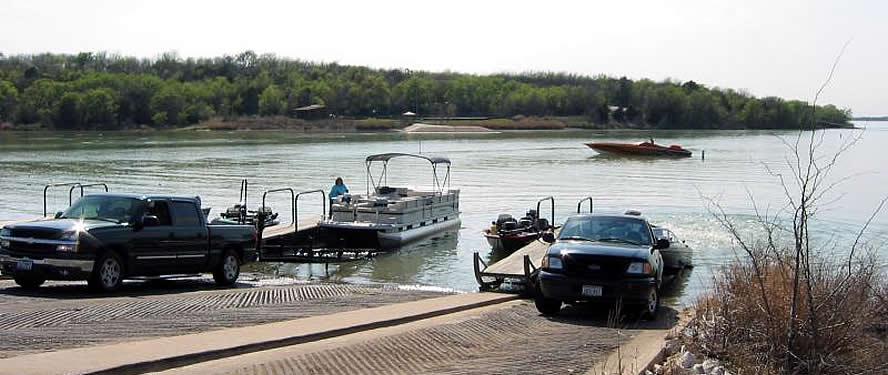 Last evening, my oldest daughter, Megan, and I went to a friend's boathouse on Richland-Chambers reservoir to try and catch a few crappies. We didn't catch a bunch of fish, but we got a few. More importantly, we got to spend some quality time together. After the fish quit biting, we headed over to Oak Cove Marina for a bite to eat. We ordered our usual favorites, a club sandwich with fries for Megan, and tater tots for me. As usual, the restaurant was packed with fishermen, some with wives and girlfriends, others eating with their fishing partners.
While waiting for our food, I began pondering the question, "what makes one marina better than another? Why do I frequent one place and not another?" Like many bass fishermen, I have been to several different lakes and rivers throughout the Southern United States. I've seen and used just about every different type of marina and boat launching area there is, and some are uniquely different than others. Most marinas sell gas, drinks, ice, snacks, bait, and food. The difference between a good marina and a not-so-good marina is the people that own and/or run it. Some make you feel welcome and want to make your outing enjoyable while others make you feel like they are doing you a favor by letting you spend your money with them. I call it the fast-food restaurant mentality. Have you been to a fast-food joint lately? Service is not their forte, and the food isn't that good either. Some of the marinas I've been too are the same way. They're only there to take your money, give you a place to launch your boat and charge you three prices for something just because you need it and they've got it.
Good people run a good marina. They are friendly, helpful, courteous, and appreciative of your business. They will bend over backward to make your stay and activity an enjoyable one. Some call it going above and beyond, I call it good business. As a service-oriented society, we value good service and are usually willing to pay a premium for it, if we have to. In most cases, you don't.
One of the best examples I can recall of good service at a marina, other than here at our home lake is at Clark's Marina on the Red River outside of Shreveport, Louisiana. I have fished two B.A.S.S. tournaments there in the past year. Clark's is a family-owned and operated marina located about 17 miles out of town. They have the only marina in the area. If you want to fish that part of the Red River, you have no other choice than to fish out of their marina. Have no fear though, they are great folks.

Dennis and his entire family are some of the nicest people you'll ever meet. They'll do whatever it takes to help you out. The food is good, the service is great, the prices are fair, and they'll even share fishing information with you, if you need it. It truly is one of the best marinas I've ever used. On tournament days, they have several employees there before daylight helping anglers get their boats launched and vehicles parked. They'll even back your trailer in for you if you need them too. They make you want to come back and fish with them some more.
Almost every lake or river has a quality marina in close proximity to where you want to fish. The best way to find out where to go or which one to use is to ask around. Ask other fishermen, they usually know the best places to launch your boat, who has the coldest drinks, warmest smiles, and the best food.
Whether you're going out to Richland-Chambers or any other lake and need to use a marina/boat launch, remember, you're the customer. Make em' earn your business. You deserve it, don't you?
Until next time, enjoy Texas outdoors.