2Handee Fisherman's Utility Tool
Taking a look at the tool's offered in this all in one 'gadget' is a delight. Starting with the construction this tool rates a solid 9 (nine). It looks and feels durable. Whether it can pass the muster in everyday use especially concerning the possibility of corrosion is unknown.
Super Strong Extra Sharp Cutting Jaws (Clippers) as advertised are sharp and seem to me at least, quite durable. They do however appear to be no better than some of the other products now available on the market. That's not a bad thing. I was able to cut 30 lb mono and 60 lb Fluorocarbon leader without much effort. They were inefficient cutting Braid, though I don't believe they were made for this particular application.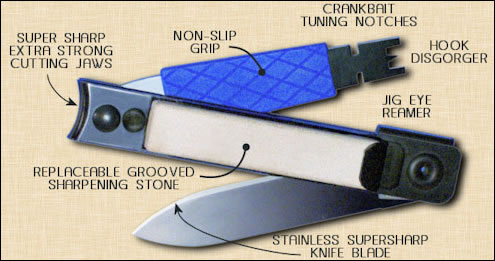 Also as advertised, the Stainless Super sharp Knife Blade is extremely sharp. The hilt of the blade is serrated and would lend itself well for cutting small tree branches making this tool useful around a campfire as well. I am sure you would be able to clean a fish, though probably would not be able to fillet one.
The Replaceable Grooved Sharpening Stone is one of the tool's strong points. It performed well sharpening #2 crank-bait hooks, a 3/0 worm hook and a #6 Mustad hook on a small ball head jig. As part of the tool it's a big plus convenience wise.
Another one of the tool's strong points is the Jig Eye Reamer. Personally I find this little detail especially annoying on the water. It sure beats using a hook point or toe clipper to accomplish this feat.
Having a Hook Disgorger must also be considered a fine addition to this utility tool.
The manufacture's claim that the tool has a Non Slip Grip proved to be true. Using the sharpening stone on one side of the tool, offset by a soft plastic grip on the cutting handle made this boast credible.
I was unable to test the Crankbait Tuning Notches, though I have no reason to believe they wouldn't pass muster.
While I give this tool an overall 8 rating with a hearty thumbs up I do feel the manufactures missed a chance to hit the ball out of the park.
They should have attempted to include a scissors capable of cutting Braid, a necessity in this day of varied fishing lines.
The tool overall is a bit on the heavy side. I wouldn't want this in my pocket, hanging around my neck, or attached to a lanyard on my belt… Much too cumbersome. Attached to a tool tray on the rear of my Pro-seat or simply lying on my deck this tool will find it's way into my tackle box. Nice job '2 Handee'.
Ranking 1 – 10
(1 = poor, 10 = Excellent):
Overall construction: 9
Overall Design: 8
Functionality: 9
Comfort: 7
Weight: 6
Price: 7
Packaging: 8
Overall Product Rating (1 – 10): 8
This Product Has Been Discontinued