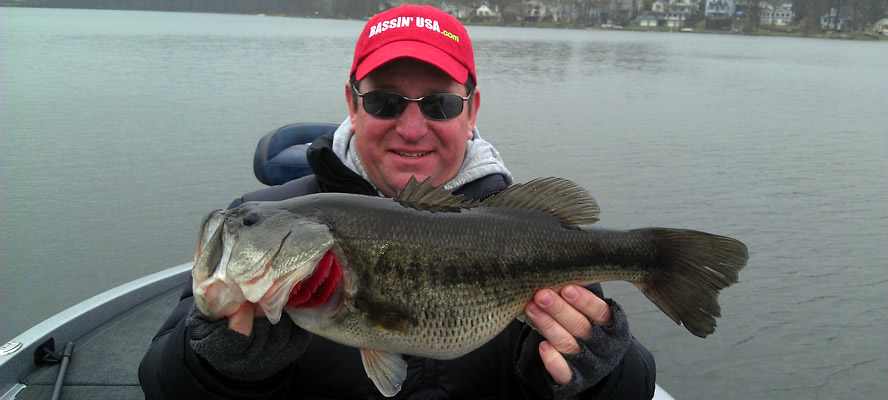 Brendan is the President and co-founder of Bassin' USA a complete online bass fishing resource dedicated to bass fishermen around the world.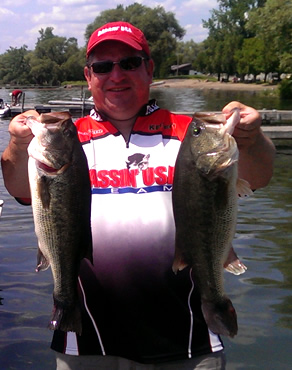 Some of his favorite pastimes are creating instructional fishing videos, writing fishing articles and helping newcomers learn more about bass fishing through seminars, clinics and youth events throughout the northeast.
Brendan has promoted environmental conservation and the preservation of our natural resources with the New York State Department of Environmental Conservation at many D.E.C. and local Fishing Club events.
Today, he lives on Long Island with his wife and their two lovely daughters. During the off season, Brendan can be found playing guitar and recording music in his studio.
"Brendan is one of the area's best anglers, especially in the spring. His ability to put very large limits together is indeed most impressive. Of note is the 23 lb.,7 oz. limit he caught while a member of Suffolk County Bassmasters on Copake Lake in 2004 and the 22 lb.,8oz. limit he brought to our scales this past year on East Twin Lakes. He won the clubs 2008′ Open Championship on Candlewood Lake with a more than a pedestrian bag of mixed bass that approached 34 pounds."
Ray Scully – President Atlantic Bassmasters
---
Accomplishments & Acheivements
---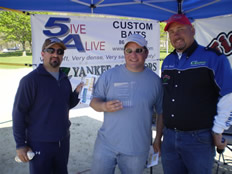 Above photo taking for 1st Place Victory at the
2007 Candlewood Classic – Two Day Tournament
CT Outdoors Team Open
Over 50 First Places Finishes in Regional Open and Club Tournaments.
Heaviest Catches
39.95 Lbs – 10 Fish Limit – Candlewood Lake Record for 10 Smallmouth (2005 Hospice Open)
35.26 Lbs – 8 Fish – Candlewood Lake (2017 Gone Fishing Bass Trail)
34.90 Lbs – 8 Fish – Candlewood Lake (2018 Gone Fishing Bass Trail)
32.84 Lbs – 8 Fish – Candlewood Lake (2018 Gone Fishing Bass Trail)
32.55 Lbs – 8 Fish Limit – Candlewood Lake Record for 8 Smallmouth (2006 LIB Open)
23 Lbs, 7 oz – 5 Fish Limit – Copake Lake Record – Suffolk County Bassmasters All Time Club Record
23.35 Lbs – 5 Fish Limit – Candlewood Lake (2019 Northeast Bassmasters Trail)
22 Lbs, 8 oz – 5 Fish Limit – East Twin Lake – Atlantic Bassmasters Individual Total Weight All Time Club Record (Photo Below)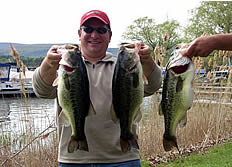 21.78 Lbs – 5 Fish Limit – Lake Hopatcong Record – (2017 Northeast Bassmasters Trail)
Heaviest Bass
7 lbs, 11 oz – Heaviest Tournament Largemouth – Weighed at Copake Lake
(Click for Photo)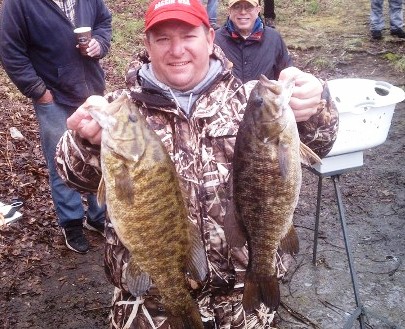 6.20 lbs – Heaviest Tournament Smallmouth – Weighed at Candlewood Lake
Other Club Level Records & Achievements
---
3 Time "Angler of the Year" Long Island Bassmaster
 
6 Club Classic Victories (4 Long Island Bassmaster "3 years Consecutive" – 1 Suffolk County Bassmasters – 1 Atlantic Bassmasters)
  
4 Years consecutive "Mr. Bass Titles" 2004 – 2007 Long Island Bassmasters All Time Club Record (2007: 6lb 4oz Largemouth, 2006: 7lb 2oz Largemouth, 2005: 6lb 9oz Largemouth , 2004: 6lb Largemouth)
5 Years consecutive "Winter Series Champion" Long Island Bassmasters 2004 – 2008 All Time Club Record