I received my Daiwa Procyon a little too late in the spring for me to use it to capitalize on the cold water jerkbait bite, but did get a chance to work it out on the spring fun bite that we all enjoy. The model I was asked to review is the PCN 601MFS, a medium action 6' spinning rod, rated for 6-14# line and baits from 1/8 to ¾ ounces. It's made from IM7 graphite and has a split cork handle and is handsomely finished in matte grey with high gloss black wrappings.
Procyon Spinning Rod, Model: PCN 601MFS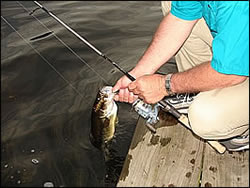 I found the rod to be a fine general purpose spinning rod with good sensitivity and fine distance casting ability. I used it for small jigs, spinnerbaits, and small cranks, and was satisfied with its performance. For the rod's price point of $50 to $70, it performed better than I expected.
I would warn some of the purists that the rod is a little forward heavy and the tip could be a little softer for some improvement in accuracy or for working topwaters. The rod loads fine with a 1/8 ounce bait but seemed a little overpowered when I attempted to use it with anything that weighed over 3/8's of an ounce, but I do have a very aggressive casting style and that may have added to the problem of the rod being overwhelmed by heavier baits.
I found the rod perfect for fishing 4"to 6" plastic worms with a 1/16 or 1/8 ounce weight in open water. It had enough backbone to set a hook and loaded well enough on the cast to get some distance. It threw a spinnerbait well and performed fine when I used it to work a single spin deep, transmitting the lure's vibrations to my hands loud and clear. I never felt over matched by any fish I took and my hook sets were solid. For the price this rod is a solid buy for an all purpose rod to put in your arsenal.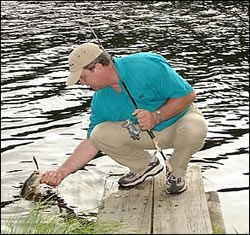 Ranking 1 – 10
(1 = poor, 10 = Excellent):
Appearance – 9
Handle Comfort – 9
Components – 8
Action – 7.5
Balance – 7
Sensitivity – 9
Durability – 8.5
Price – 9
Overall Ranking: 8.3
Overall Score on the Lapinski Standard of Excellence Scale – 8.3 "It's a Solid Buy!"… learn more
---