Spending just about every weekend camping all over the Midwest and spending a lot of time fishing local lakes like Truman, Lake of the Ozarks, Stockton and Table Rock Lake. But his family spent a bigger amount of time trout fishing at Bennett Springs state park in Lebanon Missouri, Don was hooked on Fishing. Little did Don's parents realize that all of their hard work keeping him fishing and out of trouble would turn into a full time profession of taking other people fishing for a living.
After graduating college Don went into the computer industry and spent 20 years designing computer networks for large fortune 500 companies all over the Midwest and fell back to fishing as a relief of stress and to someday follow his life long dream fishing full time as a profession. After the company in which Don was a partial owner was sold in 2003, Don felt it was time to make a change and chase his dream and moved his family down to Branson Missouri to guide full time on Table Rock Lake. And the rest his history!
Don has been guiding full time now for three years and fishes over 175 days a year teaching clients how to fish the deep clear lakes of southern Missouri chasing all species from Spoonbill, Crappie, Bass, Walleye, Brown and Rainbow Trout.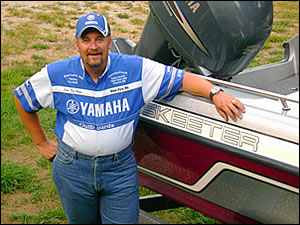 Don's Favorite Lures:
1) Drop Shot Fishing – 4" ROBO Worm (Bold Blue Gill)
2) Spoon Fishing – ¾ ounce all white
3) Shakey Jig – ¼ ounce Hazy Jig Head (8.5 inch Jackall Worm Green Pumpkin)
4) Foot Ball Jig – ¾ ounce Hazy Jig Brown and Purple Flash with twin tailed grub matching colors
---
Field Test & Pro Staff Affiliations

---

Accomplishments & Achievements

---

Bassin USA – http://www.bassinusa.com/
Bass fishing information about largemouth bass, smallmouth bass, tournament bass fishing, fishing tackle and equipment, and fishing destinations, reports, guides, techniques, magazines and books and a whole lot more.

Skeeter Boats – http://www.skeeterboats.com/ Creator of the first true bass boat to a Full line of Fiberglass Bass Boats with the I- series tournament bass boat, ZX series bass boat and the New WX Walleye series Boats along with their Fish and Ski models boats all made in Kilgore Texas.

Yamaha Outboards – http://www.yamahaoutboards.com/ Builder of the Number one selling outboard on the market from powerful 2 stroke VMAX HPDI from 200 Hp to the monster 300 Hp outboards to the Gas sipping 4 stroke from 8 Hp to 250HP

Humminbird Electronics – http://www.humminbird.com/ Hummingbird strong advances in the marine electronics with the true Side Imaging technology and total fishing electronics packages from the 700 series to the all out 900 series fishing units.

Minnkota Trolling Motors – http://www.minnkotamotors.com/ Minnkota trolling motors strong and built to last from the 55 pound bow mount to the 101 pound 36 volt bow mount with power assist and the new Terrova with co-pilot remote control. Fresh Water and Salt Water trolling motors, Batteries, Battery Chargers

Grandt Rods – http://www.grandtrods.com/ Grandt Rods one of the best fishing rods made today in America. One of the only with a true unconditional life time warranty and a real graphite feel. Models from 58 million modules of graphite in the All-American series to the out of this world 70 million modules of graphite XLH70 series for sensitivity that is hard to believe, to the total Grandt Custom rods with feather wrappings or single thread wraps for that total custom look. These are ones you must fish to feel the power.

JACKALL Lures – http://www.jackall-lures.com/ Jackall lures are designed using the latest technology in the fishing industry. With our sophisticated technology, new materials, and unsurpassed designs Jackall lures are taking fishing to the next level. Total performance and quality stickbaits, crankbaits, topwater baits, swim baits and the new plastic soft baits series

---

2007
5th place Ozark Mountain Bassmasters Open tournament

Missouri State BASS Federation Championship Qualifier

2006
1st place Central Pro/AM MO/ARK Team Tournament

BASS Federation weekend Team Championship Qualifier

BASS Federation 3rd place overall team at MO State Championship


2005
United States Coast Guard licensed captain certifications)

2004
Lying Bassers Fishing Team Member (2004-2007)

Lying Bassers points Angler of the Year

MO BASS Federation State Championship Top 20


2001
SuperBass Pro/Am Championship Qualifier

SuperBass Team Championship Qualifier (Old Hickory Lake, TN)

MO Federation State Championship Top 20 Finish

3rd Place BASS Federation Spring Fling

1st Place Bass Federation Directors Cup

1999
New Horizons Bass Team Member (1999-2003)


1998
Kansas Governors Kids Classic Top 10 Finish


1996
State Championship Qualifier (1996-2007)

Scales of Justice Bass Club Member (1996-1998)

Active member of BASS and Missouri BASS Federation (1996-Present)