R-Bend Hooks
The hard part is getting use to rigging your plastics, its not done the traditional way. Hook in left hand, plastic bait in right.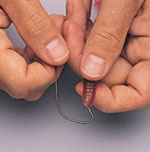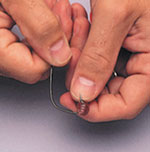 First insert bait into top right of bait, not the center, once in about a 1/16 of an inch, poke hook back through the right side of bait and re-insert hook back into bait, down another 1/16 of an inch.
Now poke hook back through the left side and continue to rig like you would your typical texas rig. Sounds difficult but believe me it works and I promise your bait won't slide down your hook shank.
The only down fall I see in these hooks is they need to put rigging instructions in the packaging and the baits you use may tear up a little quicker than with a traditional hook.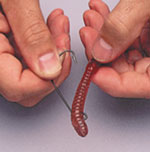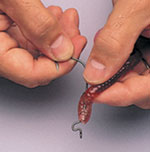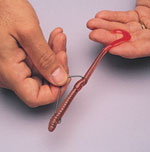 The unique features of this hook are:
The R-BendTM design, which is superior to all other hooks in holding plastic baits on the hook shank.
This fishhook has a wide gap for the plastic bait to collapse into, ensuring a deep hookset.
The eye, which falls in line with the shank, allows for perfect bait presentation.
---