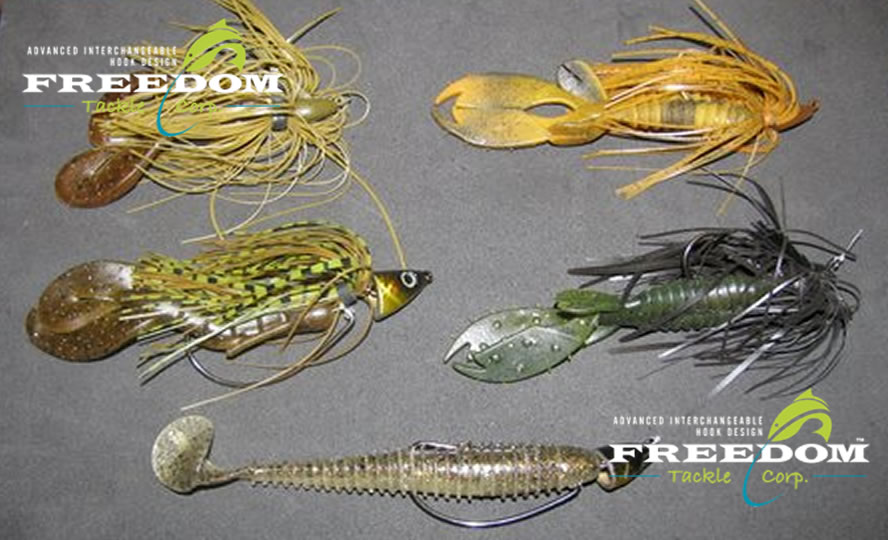 Freedom Lures Review
Freedom's Live Action Hybrid Jig's and Spinnerbait's enhance the action of any favorite plastic or swimbait giving them a life like appeal that fish have never seen before.
Overall Rating 8.00
Manufacturer: Freedom Lures
Product: Lures/Hooks
About Freedom Lures
Freedom Tackle Corp. is committed to providing anglers with cutting edge technology. We strive to improve the accuracy and efficiency of anglers without restricting their freedom to customize. Think of our products as tools that enhance the systems you already fish with. We pride ourselves in each and every product we produce, which is why every product we sell is unique to the industry and truly one of kind.
Introduction
Freedom Lures gave Bassin' USA the opportunity to field test their lures over the course of several months. We test for a long period of time in order to get a real feel for the item(s) we are testing. At the beginning of our field test, Freedom Lure only had a small choice of weights to choose from, since that time, they have added more weight options, as well as more products in general. Please visit Freedomlures.com to see all the products they have available.
First Impression
The first impression of the Freedom Lures' products was "very impressive". Although we have seen other companies bring similar type products to market, their design for quick hook removal and replacement is truly unique and innovative. Overall, the idea of being able to change the hook was very appealing. Anglers have the ability to use whatever their favorite hooks are regardless of brand and style. Paint finishes, eyes and hooks all are very high quality, well-made jig heads
Lure Features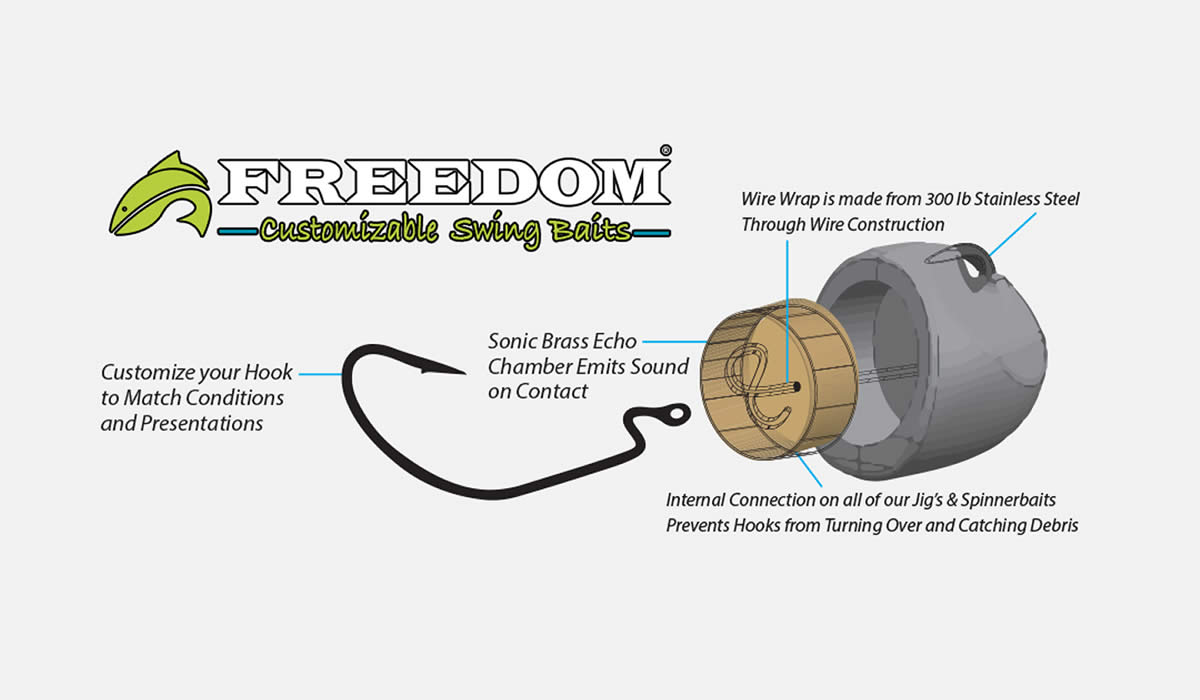 Freedom Lures designed these jig heads to allow anglers to quickly change hook size, shape and style. The hooks have a free range of motion which the manufacturer claims decreases the chance of fish throwing the hook while fighting. This happens to be something that many anglers want. This feature gives some additional side-to-side wobbling action to certain types of soft plastic lures, especially swimbaits. The Stealth model comes with a screw-in lure keeper which slides out of the way when fish strike and helps to prevent your lure from tearing. One of our reviewers found this to be a bit large and long.
Jig Head
The jig heads tested by our Prostaff members, are made of lead and have a brass inner chamber that projects sound and houses the wire hook fastener. There are a variety of head designs to choose from (Hydra, Zodiac, Stealth & Rogue) which each have their place for use in various conditions.
Skirt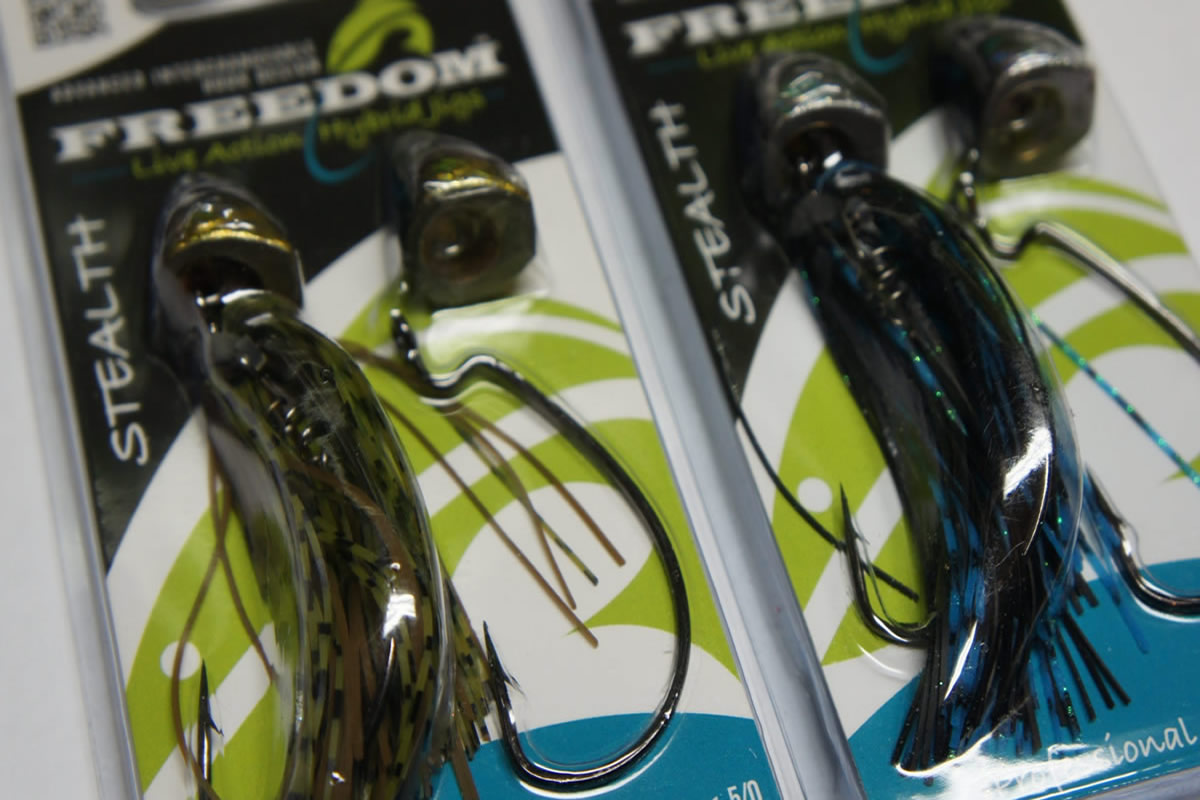 Skirts provided with the Stealth model were also made from quality material. They are currently only available in two colors Silver Shad and Golden Shiner. One member felt the skirts to be a little on the hard side and not very flexible. In the future we would like to see some more color options available.
Testing
The Freedom Lures Jig heads were used in a wide range of clarity from crystal clear to stained. Structure and cover targeted were primarily rock, weeds and wood. Lures were tested on Candlewood Lake, CT, Ballston Lake, NY, Hudson River, NY, Lake Champlain, NY, Lake Geneva,WI, Waddington in St. Lawerance and several other smaller lakes and ponds. Water and Air temps ranged from the low 50's through the mid 80's.
Our Prostaff members used the following gear:
A 7' Medium Heavy Power St. Croix baitcaster, paired with a Shimano 201e7 reel and 12 pound test Berkley 100% fluorocarbon line. A 7' Gloomis IMX Rod, Lews tournament speed spool reel 6:3:1, 12lbs test McCoy mean green mono line. A 7' medium heavy casting rod with 6.1 reel spooled with 17lb fluorocarbon. The Freedom Lures were teamed up with many different soft plastics, such as swimbaits, craw trailers and other soft plastics.
Performance/Effectiveness
All the Prostaff members reviewing the Freedom Lures used the same lures they would normally use to pair up with the Freedom Lure hooks. As far as catching fish with the Freedom Lures, our team mainly came to the same conclusions, that the jigs performed equal to a similar style jig head. There wasn't a noticeable increase in catch ratio when using the same type of soft plastic on these jig heads. Here's one example from one of our reviewers; "while using a particular type of swimbait on a standard football or fish-head style jig, I did not begin to catch more or bigger fish when I switched over to the Rogue or Hydra."
Although there may have not been an increase in catching bass, the Freedom Lures do give you an advantage other lures don't. Being able to swap out hooks and trailers quickly, while keeping the same weight is a real benefit especially in tough conditions. For one, swapping out takes no time at all, getting you back in the game quickly. Second, the ability to make these modifications resulted in more bites for our team.
The one thing all the reviews had in common while testing the Freedom Lures was they are good for catching pike, as well as bass. Freedom Lures Stealth Jig appeared to be a favorite by most of the Prostaff members when fishing around the weedlines. One Prostaff member found this to be one of the better jigs to fish around the weedlines and had much success. It would seem that the weight of the jig was an issue. Fishing the Freedom Lures on the edge of rock plies also produced some decent results, with one member catching 4 fish in succession around the 12"-14" range.
The swinging action from the hook did cause some problems, such as tangling on the drop. It's possible that the tangles are due to the hinge point being close to the line tie. It's important to mention that this happened when using Vertical jigging as a technique and can happen with other jigs.
Techniques Used
Some of the techniques used while testing out the Freedom Lures were Pitching (Stealth), Deep Water dragging (Rogue), Texas Rig/Shakey Style, Wacky Rig, Swimming Small Finesse Swimbaits (Zodiac), Vertical Jigging and Swimming Hollow body and Solid body swimbaits (Hydra). Slowly crawling the lures on the edge of rock piles or weedlines, and swimming thorough grass beds was successful. Some felt that a lighter jig would result in more action for shallower applications. (Please note at the time there weren't light weight lures, Freedom Lures has added additional weights to their product line)
Action
The Freedom Lures do add some additional action to your lure presentation. As one reviewer put it "The "free" swinging hook allows plastics to float up and wag a bit more on the bottom than they do on standard jig heads." The swinging action adds to the looping motion as the bait is jigged. Although he can't say for sure that this action increased rates of size of bass caught.
Weed-less Effectiveness
Because you can choose your favorite hook styles and many of the Freedom Lures come with EWG style hooks, these jig head are excellent for weed-less applications.
Construction/Quality
All of the Freedom lures that were sent to us came in quality packaging and were constructed very well. Each product looked identical when compared to one another across the various models. The black nickel hooks provided are quality hooks and are very sharp. The paint job on each lure is great.
Durability
Our Prostaff members love to see how durable products are when they are testing, because in the end it if a product can't hold up, it's not worth it. It's safe to say Freedom Lures did not disappoint. They were banged off rocks, brigde pilings, boats, stealbilkheads, etc. For the most part, our team found Freedom Lures to be extremely durable. Over time the paint does wear away a bit like most other quality heads, but they last much longer. Another great detail about the lures, are the hooks, they stayed sharp throughout the testing period, and most anglers know a dull hook means lost fish.
Design
Freedom Lures definitely put a lot of thought into their products, and are forward thinkers. Generally, the hook removal/replacement concept is the best out there. The system developed is beautiful in it simplicity. Throughout each and every jig head there is consistency in the quality of their construction. The extra-large eyelets make it easier to tie.
Other Features
The lead heads of the Freedom Lures are great, but there's interest in seeing smaller heads using different material. Also, more basic colors, such as black to go along with the designer paint jobs.
Reviewer's Overall Thoughts
When you look at all of the "freedom" that you get with these lures, I think it is safe to say they were aptly named for sure. The favorite element of their design is that quick remove hook system. Although there was not a noticeable distinct fish catching advantage using these jig heads over other traditional jig heads, there are angler claims out there that have. They are high quality lures that are very durable. It would be great to see more sizes, weights and colors, which if you go to Freedom Lures.com you you will see more product offering from them. Overall Freedom Lures makes a really quality line of products that give anglers the ability to tweak their presentation to fight the situation. All of our Prostaff members who reviewed these lures would absolutely recommend them to other anglers.
Read The Individual Reviews