Testing Conditions:
I'm testing the HMG Spinning Rod GS66MH-F with a Shimano Stradic 2500 spinning reel spooled with 8lb test McCoy Mean Green Mono line.  I'm fished a natural grass filled lake in Northern Illinois with clear water.  Weather was temps were in the 90's with little to no wind. The lake has some amount of fishing pressure as well.
Casting:
I found the casting to be smooth with no kinks or frays in the line.
Sensitivity:
I felt this was a very sensitive rod. I was throwing a shaky head with a finesse worm along deep weed lines and could feel the most sensitive of bites.
Power:
HMG Spinning Rod GS66MH-F is strong. This medium heavy action rod has plenty of power to pull fish out of deep milfoil even with light line.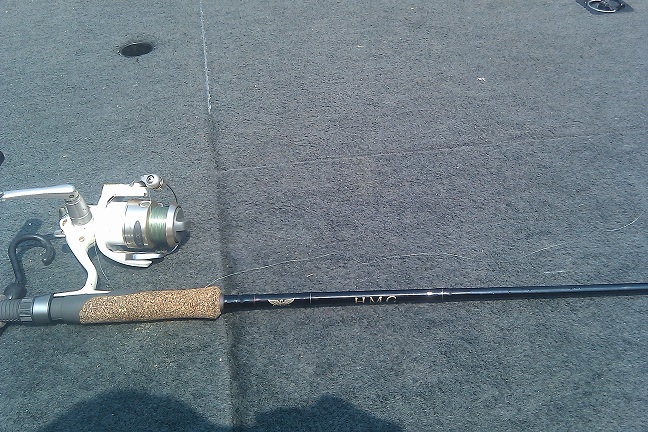 Durability:
I put this rod through a 10 hour tournament practice style day & this rod held up very well. Lot of dropping it on the deck and stepping on it and HMG Spinning Rod GS66MH-F held up very well.
Design/Comfort:
I personally found this rod to be very comfortable for me.  I have smaller hands and this rod paired up with a 2500 shimano reel fit great.   I had no issues with the design of the HMG Spinning Rod GS66MH-F.
Applications:
In my opinion this is multipurpose rod. Great rod for grass fishing.
Overall Thoughts:
A well-crafted rod that I believe will make the customer very happy depending on their preferences. This is one of the better built rods for the price tag.
 
Ratings
Construction/Quality
8.00
Performance
8.00
Price
8.00
Features
7.00
Design/Comfort
8.00
Application
7.00
Total Score
7.67