From 1967-69 Ray served our country in Viet Nam with the 101st Airborne. He was a smallmouth, largemouth and pike guide 1973 thru 1976 on the St Lawrence River out of the Clayton, Cape Vincent and Alexandria Bay area with one of his best friends Rodney "Little Jaw" Phillips.
Ray was the New York State president of "Smallmouth Inc." 1987-89 and then became North East Regional Director. He was past president of the New York Smallmouth Alliance from 1992-95, and is currently the president of Atlantic Bassmasters as well as the president of the Long Island Alliance of BASS clubs.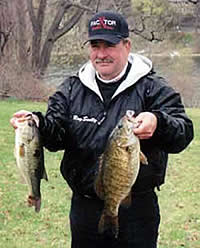 Life long friends include Nolan "Red Eye" Edwards, a knowledgeable smallmouth fisherman and Lee Roy Bailey Jr, Top 150 BASS Angler, Connecticut River Guide, author of "See You On The River and his new book "Current Tactics". Both of which are must read books for river fishing in general, according to Ray.
Through his association with Smallmouth Inc., he was fortunate enough to strike up acquaintances with bass fishing legends like Billy Westmoreland, Bill Dance, Dick "Mr.Jig" Bengraff, Chuck "Capt. Chuck" Duggans and Lawrence Cody a smallmouth top honcho from Nova Scotia.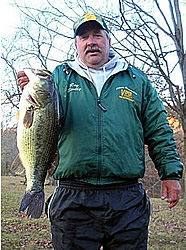 Ray has had articles featured in Smallmouth Magazine, New England Outdoors, New England Woods & Water, The Limit, Bass Fever Magazine, and Foxwoods Outdoors.
He is currently working on a book "New York's Top Ten Smallmouth Streams".
Ray fishes about 120 days a year, and competes in approximately 15 tournaments per season.
---
Accomplishments & Achievements

Winner of over 75 Club and Open Tournaments since 1986 and qualified for the Foxwoods Classic in '97 and '98 with best finish of 11th on Winnipesaukee in 1997
President of the "Alliance of Bass Clubs" 1999 through present.
Senior Staff Writer for Foxwoods in 97 and 98
President of the New York State Smallmouth Alliance 1992-1994
North East Regional Director for Smallmouth Magazine 1990-1992
New York State President of Smallmouth Inc. 1989-1992
Member of Atlantic Bassmasters President for 9 out of the past 11 years
Club Angler Of The Year 9 times
Articles have appeared in:
Northeast Woods and Water
The Limit
Bassin Fever Magazine
Smallmouth Magazine
Long Island Outdoors
New York State Fur, Fish and Game
Yamamoto Inside Lines
Foxwoods Bass Challenge Magazine