Products: TD Minnow, Double Clutch, TD Minnow Type SG, Daiwa Steez Flourocarbon
Have you ever picked up a lure and you just knew that it was going to catch bass? Well that's exactly how I felt when I saw these new jerkbaits from Daiwa. The timing was perfect for testing these new beauties, with waters warming into the mid-upper 50's. Candlewood Lake has an abundance of Alewife and the new TD Minnow does a great job of imitating these 4" bait fish.
Products Reviewed:
TD Minnow, Double Clutch, & Type SG
Conditions:
Early Spring – Pre-spawn
Water Temp – 57 degrees
Water Clarity – Clear
Winds – 20 Mph
Location – Candlewood Lake, CT
Depth – 8' – 30'
I arrived at the boat ramp at 7:30am, and was at my first spot by 7:50am. The water temp was 53 degrees in this area of the lake and I decided to focus on a submerged road bed that parallels a large boulder flat that sits primarily in 8' – 15' of water. The wind had been blowing on this area since the day before, so I was confident that it would hold bass. I had also spooled up my jerkbait rod/reel combo with the new Daiwa Steez Fluorocarbon line in 12 pound test. I was using a 6' medium action rod with a Team Daiwa Tierra Reel that I had recently purchased from the Valley Angler in Danbury, CT.
Type SG

The Type SG dives to 6' and suspends when using a jerk, pause retrieval and with the addition of the fluorocarbon, I was able to get the lure to fall slowly during the pause (which I prefer at this time of year). I did retie this lure on 10 pound monofilament and was pleased with how balanced this lure truly is. It did not sink or float when I paused during my retrieve near the boat. This lure weighs 5/8 of an ounce and can be cast a "country mile" on a bait caster.
On with the fun part of the review… fishing! Before I began casting I made a quick pass by the key areas I wanted to target with my electronics and was able to mark lots of bait and active bass. I hit two weigh points on my GPS where I observed the largest concentrations of bass and circled around to begin casting. I like to start with a variable retrieve when using a jerkbait and experiment with the amount of time I leave the lure sitting still (or slowly sink) during the pause. My rhythm was something like this "Rip, rip, 3 second pause, rip, rip, rip, 10 second pause, rip, rip, 3 second pause, etc.". Well, that was all she wrote, because by the third cast a nice 3 ½ pound smallmouth let me know that she wanted a 3 second pause. There is nothing quite like the feeling of ripping a jerkbait, pausing and then feeling a smallmouth pull back twice as hard as you just pulled! When bass hit a jerkbait that hard, you know you have the right one tied on. I went on to catch several Smallies ranging from 3 pounds to 4 ½ pounds over the next hour. One of my favorite things about this jerkbait was the vibration that the thin lip design gave off while working the lure. You could really feel what the bait was doing and I feel that helped me stay in tune with the retrieval these fish wanted.
TD – Minnow, Double Clutch

After the bite slowed down, I decided to switch over to the smaller TD – Minnow, Double Clutch to see if I could finesse a few more strikes. Daiwa states on their website that "The silent gravity oscillating system creates a virtually noiseless pattern to prevent spooking of overly cautious predators." Well, let's find out if there is any truth to this statement.
I had tied on the "Ghost Wakasagi" colored 3 ¾" Double Clutch Minnow (also 5/16 ounce) to a spinning rod with the 6 pound test Steez Fluorocarbon. The concept behind this weighting system is very interesting, but to be completely honest it was way too cold for me to dive under water to verify how stealthy it really is… so I took their word for it. I can say that I did not notice any noise when ripping the lure near the side of the boat. This lure is thinner in design and has a much more pronounced bill than the Type SG Minnow. I found that by using a pull-stop retrieve, I was able to finesse 3 more strikes from the same inactive school that I had been targeting. To say the least, I was impressed because I had not had a strike in over 15 minutes with the Type SG and one of the fish I caught was nearly 4 pounds. If I had been fishing a tournament, that big smallmouth would have really helped my total weight. With the results I had, these two lures stayed in the boat for the rest of the spring (I had to get them some matching friends though).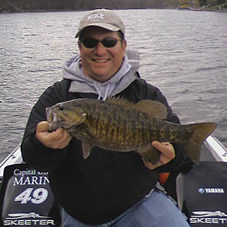 Ranking 1 – 10
TD Minnows
Rank Lure Action: 9
Castability: 9
Color – Design: 8
Ability to Suspend: 9
Hook Quality: 8
Sensitvity: 9
Durability: 9
Overall Ranking: 9
Review by Brendan Cucinello
Bassin' USA President