Products: TD Minnow/TDM 2101SP 01, Samurai Braid
I have always been impressed with Daiwa's Team Daiwa series of lures, and the TD Minnow did not disappoint. The realism they are able to put into their baits is truly amazing.
TD Minnow/TDM 2101SP 01 Suspending Minnow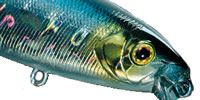 The TD Minnow is available in 10 fish catching colors with super fine scale patterns and life-like 3D eyes. These lures are 4 inches in length and weigh 5/8 ounces. On 8 lb line the TD Minnow will suspend @ 3-4 feet on a jerk, jerk, pause retrieve.
I fished a TD Minnow in the Translucent Minnow color in crystal clear water on main lake points on Kentucky Lake. The bait casts flawlessly, even into the wind. I was able to catch some very nice smallmouth bass that were suspended in about 15 feet of water, and the ultra sharp hooks kept them buttoned up.
I found the TD Minnow to be in the same class as Lucky Craft jerkbaits. They seem to have very similar characteristics in both casting and suspending abilities.
I would rate the Type SG TD Minnow as follows:
Ranking 1 – 10
(1 = poor, 10 = Excellent):
Design: 10
Colors: 10
Cast Ability: 10
Suspend Ability: 10
Quality: 10
Overall Ranking: 10
I would consider these baits to be at the top of my jerkbait list. You will not find baits that are superior in "lifelike" appearance or fishability. Give these baits a test drive, you won't be disappointed… learn more