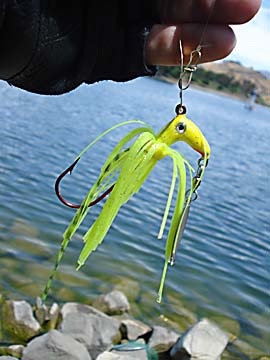 Rock N' Runner Underspin Specs
Type: Underspin/Chatterbait
Depth: Any
Material: Hard Plastic/Silicone
Weight: 1/4 oz., 3/8 oz
Colors: White,Chartreuse,Blue/Black, Chartreuse/White, Firetiger
Hook: Bleeding Bait Hook™
MSRP: $8.25
At-A-Glance
The Rock'N Runner has the traditional "RoadRunner" head and the standard chatterbait blade but they have added a small willow spin blade on the bottom of the bait. It also comes standard with a "Bleeding Bait Hook™, which was super sharp. The skirt was generous with a nicely finished head, holographic eyes, a small silver Colorado blade on a swivel beneath, and gold wobble blade in the front to provide added action and vibration. The idea of fishing with a lure that was combination spinner/chatter bait was intriguing.
Testing
The Rock'N Runner was tested by two Bassin' USA members. Kevin used a 6'6" baitcasting rod with 17lb McCoy Mean Green copolymer line, while George used a 7' medium hard baitcaster with 8lb mono line. The model bait for each of there was the same, a 3/8oz in chartreuse. According to Blackmore there are only 4 color combinations.
Durability/Testing
The bait was fished in clear waters and around heavy cover areas, such as pads, grass, and rocky bottoms. While giving it a beating off rocks, and running it between weeds, the paint job on the head held up pretty well. There were no noticeable chips in the paint. The most well liked aspect was how slow you could retrieve the bait, and yet, still have that killer wobbling action. A point of caution, the lure will tend to float up on a cast if it's breezy out.
Effectiveness/Performance
As Kevin states "This bait is like your traditional chatterbait on steroids." George found that he needed to make some adjustments to his and change up his presentation, still using the hook and blades. Once some adjustments the strike was hard and fast.
Overall Rating = 9.3
Construction 9.5
Performance 10
Design 10
Effectiveness 9
Price 8
Overall Conclusion
This particular color is really best suited for stained water where heavy cover is present. It can be a deadly lure as long as you have the right size and color for your situation. Definitely give it a try, but it most likely won't be a go to bait. The catches were smaller and fewer than hoped for, but perhaps with other variations of it may have fared better.
Read Individual Articles