MUST TASTE LIKE PIZZA…
This is what my three sons thought when they came in the house after I received the new products from Gene Larew. The new garlic scent was the only thing that you could smell in the house. My boys thought we were having pizza for supper and the fish must think the same thing. I took the new lures with me on a recent trip to Lake Champlain and the fish showed their approval. The conditions this day were bright, bluebird with a slight breeze from the north. The watercolor up this end of the lake is clear with 7 to 10 ft. visibility.
Ribbon Tale Floating Worm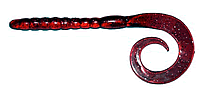 We started out with the 8-inch Ribbon Tale Floating Worm (Red Shad) up in the flooded bushes. It was a perfect day for this with high blue skies to put the fish deep into the cover. The largemouth could not resist. We fished it on a 7′ Kistler All Purpose Special (medium heavy) rod with 15 lb. line, weightless with a heavy wire wide gap hook to help with casting distance.
The next bait we tried was the Baby Hoo Daddy (creature bait, green pumpkin). We fished this bait in the same areas but changed our presentation to flipping and pitching. We rigged the Hoo Daddy Texas style with a 2/0 Mustad Megabite hook, 20lb. line, and 5/16th bullet weight on a 71/2 ft. flipping stick. After boating several nice Lake Champlain largemouth we decided to target some of the lakes famous smallmouth with the new tube bait from Gene Larew.
The Floating Fat Tale Tube (watermelon) is a little different. This bait has a large bulky profile, unlike the normal tube we fish up here in New England. This bait is a winner with the lakes smallmouth population. We fished it with an insider head and exposed hook on a 6ft. spinning rod, rigged with 10lb. test line. The lakes rocky ledges were are targets. We didn't notice a difference in the amount of fish we were catching with the new tube but they seemed to be noticeably larger than the fish we were catching on our usual tube. It could be coincidence or it could have to do with the larger profile. Either way it has found a spot in my tackle bag… learn more