The Tube Worm and Floating Lizard:
This soft, ringed worm has a solid head and hollow body and is and unlike anything I've ever fished before. The hollow body gives the bait a very natural feel, and makes the bait fall through the water column more slowly than regular solid body worms, keeping the bait in the strike zone longer. The tube style tail gives it just enough flare to attract attention and gives the fish a different look, too. The Tube Worm and Floating Lizard were fished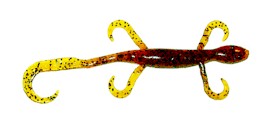 on a Carolina rig in June on Kerr (Buggs Island) Lake, a reservoir on the North Carolina and Virginia border that is well known for it's Carolina riging results. Most of the action occured in 10 to 15 feet of water on clay and chunk rock points. I'm confident these lures will produce bites if used in in other situations as well. The only draw back was the "heavy" feel the Tube Worm has while fishing it on the Carolina rig.
The Fat Tail Tube and Mega Ring Shad:

The 4.5″ Fat Tail Tube is a chunky bait with a flare at the base of the tail. The hollow body is just the right size to hold glass or metal rattles, and the the size of the bait is right on the money. This tube gives a different action than other tubes on the fall, as well, and will surprise anyone pitchin' or flippin' heavy cover with it's durability.

The same can be said about the Mega Ring Shad. At 4.5″, it's the perfect size for pitchin' and flippin'. The baits are made with a garlic scent that is powerful enough to eliminate the need to use additional attractants.
I would recomend any of these four Gene Larew baits to anyone looking for something a little different. The Tube Worm is a great lure, one I'm sure I will be adding to my arsenal. I checked out the Gene Larew web site at www.genelarew.com and found that they are available in over 20 colors and in a 4″ size as well. Check it out for yourself… you'll be glad you did.
---