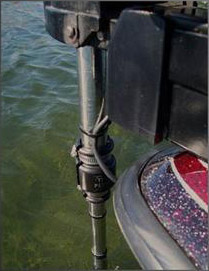 Once installed and adjusted, the troll perfect will keep your trolling motor pointed in one direction with the continuous power supplied. No more keeping you foot on the pedal to adjust keeping it straight.
How many times have you wanted to fish a lay-down tree and had a breeze blowing you off this lay-down? You are constantly on the trolling motor try to keep yourself in position and make you cast.
With the Troll Perfect you can adjust you speed to the wind and hold yourself in position to fish the target with ease. You also don't scare the fish off with the constant on/off blast of the trolling motor.
This worked fantastic in the wind as I was fishing a windy point. I pointed the trolling motor into the wind and adjusted the speed where I could stay in one position and make numerous casts to the point. The fish were schooling on the point and I was able to catch several really nice fish from the point, even a double hook up.
It also works well when fishing the river for holding a good steady straight line against the current. No more fumbling around to keep the motor going straight just point, go, and cast.
Overall I would give the Troll Perfect a Perfect 10. This thing solves a lot of the problems I have had with my trolling motor!!!
My ratings of the Troll Perfect are as follows:
Easy to install—-10
Easy to adjust—10
Simple to use—10
Construction—10
Price —–(Worth every penny)—10
Did the product work as advertised—-10
Would I recommend this to my friends?  You bet!  If you like to fish in current, you need this product.
It is made right here in the USA and is available for most brands of trolling motors.