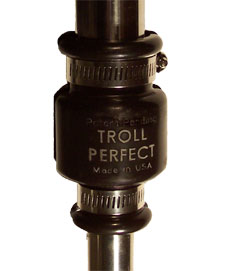 Not very often does a product come along that will truly benefit the fisherman who spend hours pursuing a tournament limit of fish or that once in a lifetime trophy, but this product does just that. The Troll Perfect is a 2 piece high impact polymer device that attaches to your trolling where the stationary upper shaft meets and the rotating lower shaft. You attach the pieces on each side of the shaft by using the two stainless steel hose clamps that are included. Place the first clamp in top groove on Troll Perfect and tighten the clamp until snug making sure it cannot rotate. Place the second clamp in the lower groove and tighten until desired amount of tension is achieved. You will probably have to make final adjustment while on the water to get the perfect amount of tension.
Troll Perfect Installation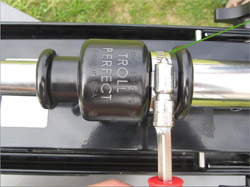 Troll Perfect Installed – Stowed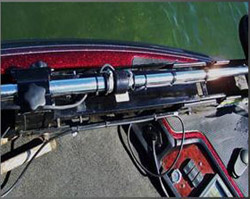 After receiving my Troll Perfect it took me about ten minutes to install it on my trolling motor while my boat was in the garage and motor in stowed position. Once on the water, it took me just a few minutes to make my final adjustments to get the right amount of tension.
Adjusting Tension on the Troll Perfect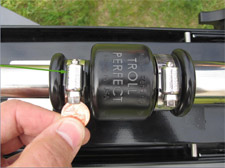 The very first time I used this product, I was fishing a three day tournament on the Tennessee River in high winds and a very strong current all three days. The very first thing I noticed was how much better I could maintain boat positioning in these harsh conditions with the Troll Perfect installed due to the fact it prevented the twisting of the motor during the high waves and current. It also took all the "play" or looseness out of the pedal, which in turn made my trolling motor a lot more responsive. But the biggest benefit for me, was after three 8 hour days on the water, I felt much less fatigued from not having to fight my trolling motor.
My ratings of the Troll Perfect are as follows:
Design: 10
Overall Performance: 10
Durability: 10
Comfort: 10
Installation: 10
Price: 10
Overall Rating: 10