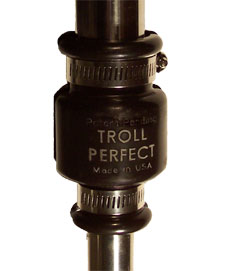 It simply clamps to the trolling motor swivel bearing and helps assist keeping the motor in position even when your foot comes off the pedal for a moment. The tension can be adjusted with a dime or a pen knife when needed and is worth every penny.
The quality and design of this product is a ten (10) out of ten (10), as was the performance, durability, design and price. The two partners I had were so impressed they wanted to know where they could get one for their boats. I am buying two more to use on my other boat and believe this product gives a great advantage to anyone who buys one.
The price is less than a crankbait and provides the best boat control in tough conditionsthat I have ever experienced in thirty years of fishing!!!
My ratings of the Troll Perfect are as follows:
Design: 10
Quality: 10
Performance: 10
Durability: 10
Comfort: 10
Installation: 10
Price: 10
Overall Rating: 10