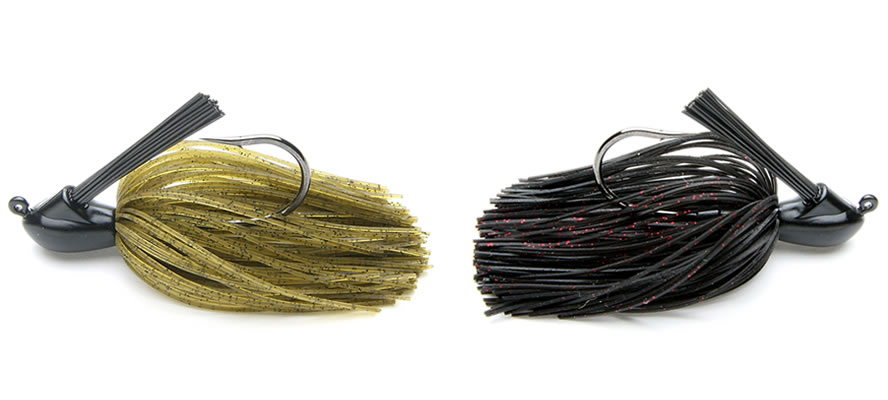 Keitech – Model 1 (Casting Jig) ½ Ounce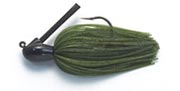 When the KEITECH Model 1 (Casting Jigs) in ½ ounce arrived, my first impression was amazement at the quality. The look and feel of these jigs was totally different than any jig I have ever seen. The head is made of tungsten, which allows the head to be 30% smaller and harder compared to a lead head of the same weight. Molded into the head is a custom super sharp Gamakatsu 3/0 hook and is topped with a custom hand glued weed guard. The skirt material is just as impressive as the quality tungsten head. It has six times the average number of strands (240 as opposed to 40) than a traditional jig and is custom made from a fine cut super soft silicone material called SR-40. The only thing that needs to be done to fish these jigs is a slight trim of the weed guard, the skirt is already trimmed.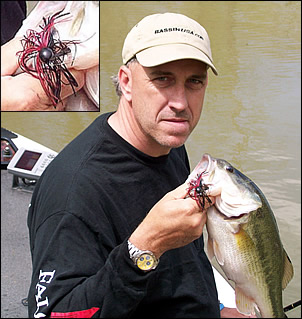 At the time of the test, the lake temperature was in the low 60's and the Bass were spawning in the bushes. I tied on a black/red (color 408) and tipped it with a KEITECH medium custom trailer in black (color 001). The lower profile head made the jig perfect for flipping in the bushes and fell through the branches like a dream. The smaller profile head enabled me to fish the jig in places I normally would have used a soft plastic. On my first trip, I caught 10 fish in the 3 to 4 pound range on the KEITECH Model 1 and the Gamakatsu hook kept them all buttoned up.
The only thing I would change, would be to replace the Gamakatsu 3/0 to a 4/0, I think it would give the jig a little better bite. If you are a jig fisherman and want to step up to a high performance jig, the KEITECH is what you are looking for. I would love the opportunity to throw some KEITECH Model 2 (Football Head) jigs on Kentucky Lake ledges this summer… learn more

My overall rating would be:

Quality – 10
Lure Design – 10
Performance – 10
Total Score: – 10
Product Reviewed: Keitech Custom Trailer

The KEITECH Custom Trailers were equal in quality to their jigs. They have the shape and appearance of "traditional" pig style trailers. They are made of a custom super soft SR-10 silicone rubber material which is very durable and extremely lifelike. They come in Small (2"), Medium (2 ¾") and Large (3").
In my opinion, they blow away Zoom chunks as far as action and feel. If you fish your jigs with traditional pig style trailers, this is the Mercedes Benz of trailers… Learn more


My overall rating would be:
Quality – 10
Lure Design – 10
Performance – 10
Totol Score: – 10

Keitech USA is the sole distributor of the entire Keitech product line in the United States. If you are a retail store owner and would like to carry these quality products, or if you would just like more information on the complete line of Keitech products, you can:  email Mike Czaplinski or phone: 973-398-7608
---