Keitech Swing Impact & Tungsten Super Round Jigs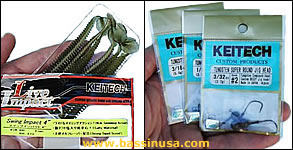 KIETECH:
Swing Impact – 3″ & 4″
Swim Impact FAT 4.8″
Tungsten Super Round Jigs
Castaic Lagoon, California
All fishing was done from the shoreline.
Conditions: Clear skies, slight breeze,
water slightly stained, water temp 64,
air temp 78, barometer was 29.75.
I was immediately impressed by the variety of sizes and colors that these lures came in. My test group included several colors; Watermelon (my favorite), Green Pumpkin, Bluegill, Sight Flash (white with silver flake), Gold Shad, and Moroko Gold. One of the really nice things about these lures is the way they are packaged, A+ on that to KEITECH. These lures come packaged in a convenient zip-lock bag which includes a plastic tray inserted in the bag to hold the lures and keep them from getting crushed. This also makes them easy to remove and place back in the bag. The plastic is super soft, salt impregnated and also strongly scented with squid. Frankly, I was surprised since I had never known of freshwater lures scented with saltwater critter juice. But hey, I'm always willing to give something new a spin.
Design of the KEITECH Swing Impact is interesting too:


1) The paddle tail is quite large which imparts a wide swimming action.
2) The tail tapers to a very narrow section which allows incredibly good swimming action even at the slowest speeds.
3) There are small channels molded into the top and bottom of the lures making them simple to rig straight and weedless. This is a big help in getting them to swim true with good action and not snag up.
4) The bodies are ribbed which helps hold scent and traps air bubbles after the lure penetrates the surface. As the trapped air bubbles slowly escape they attract the attention of fish.
All of these features combined add up to a pretty slick presentation!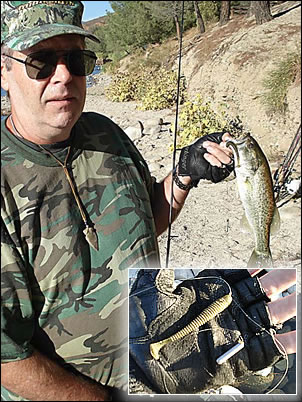 My test site was Castaic Lagoon, California. All fishing was done from the shoreline. Conditions were clear skies, slight breeze, water slightly stained, water temp 64, air temp 78, barometer was 29.75. I had done some research on popular rigging techniques for the KEITECH Swim Impact and had read that besides using round jig heads, they are also effective on dropshot and Carolina rig setups. Considering all the great color choices I had to go with I decided to start off with Watermelon in the 3inch size on a dropshot rig. I was fishing this setup on 6 lb. fluorocarbon line using a 7.5 foot graphite dropshot rod and spinning reel.
After making a few casts in between the corner of a dock and a piling I got a solid bite and landed a nice bass. Alright, that worked pretty good, then decided to step it up to the 4 inch size which I rigged up dropshot also only using a little heavier weight and 1/0 EWG hook. I was able to cast out a little farther with that to say 20 ft. of water from my spot behind the dock.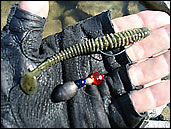 Stuck with that for a couple of casts, then decided to move a little way farther up the shoreline and cast out again. Bingo!!!!! Another nice bass on and landed. I was starting to like the way this test drive was going.
Honestly, at first I had my doubts about the squid scent but the bass were telling me they liked it. Besides showing them something visually new they were also getting introduced to a new scent. Keep those zip locks tightly sealed cause let me tell you, they are not kidding when they say "strongly scented".
I also tried some different rigs with the KEITECH Tungsten Super Round Jigs. These jigs have super sharp hooks, a line eyelet that is at 90 degrees on top of the ball. The shanks are relatively short which is good because it keeps the hook point a little closer to the line and therefore less likely to snag up.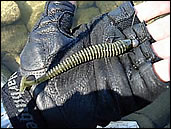 The 3/32 size was especially well suited to the 4 inch size and it allowed the lure to swim well down below the surface without hampering the action.
The lure did have a tendency to rip away from the hook while casting due to the super softness of the plastic but I quickly solved that problem with a drop of Crazy Glue between the head of the jig and the swimmer. When rigged up on the 4 inch size shaky head style with the line threaded through the top of the lure with the jig below about a 1/4 inch back from the head of the lure it is possible to suspend the lure in the water in almost a perfectly horizontal position and keep it motionless. I could see how this setup could be deadly fished from a boat in deeper water near drop offs, grass lines and ledges. After catching the two bass over by the docks I decided to change gears again and get into some of the bigger 4.8 inch swimmers. I headed on down to the south end of the Lagoon and began pitching the 4.8 inchers off the riprap into deeper water hoping to connect with a bigger fish. Rigged weightless on 4/0 EWG hooks these lures cast very far for their size. The swimming action weightless is very good also and they can be fished extremely slow and still have good tail action but they do run pretty shallow this way.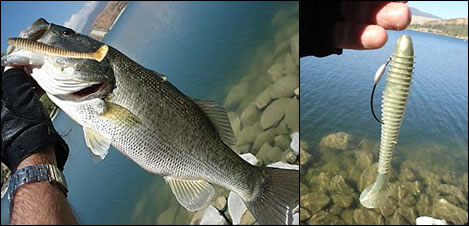 I was looking to go a little deeper and decided to rig up a 4.8 inch Moroko Gold Swing Impact FAT on a 3/0 Falcon 3/32 oz. jerk hook. I also changed rods to a 7 ft. medium hard action rod with a baitcaster reel with 6 lb. fluorocarbon line. This setup allowed me to get some major distance on my cast and get down into the deeper water where I figured some big boys might be hanging out. After fishing this many ways: waking just below the surface running it pretty fast, letting it sink about five feet and bringing it in at medium speed, and also letting it sink all the way down and then ripping it back I finally decided to try casting it out and letting it deadstick for a while and then very slowly swim it back across the bottom with little jerks now and then.
On my third cast in this deadstick and slow swim back on the bottom style….. SLAMMM BAM BADABING baby fight on, drag screaming!! Alright second hookset just for insurance, this was a pretty good one. Still ziggin and zaggin making some pretty good runs… man this one was not going to go down easy. I don't know where this fish got all the energy from. Probably a recent trout plant but I'll tell ya what, this was just about the best fighter I've had for one this size. Finally the fish begins to weaken a little, made one final run for it and gave up. I gently reeled it in near the rocks and lipped it. Whoa….. what a nice bass. Solid three pounds and change. This last one was the best catch of my KEITECH test and really worth the effort. All fish were released.
So from my perspective the bottom line on the KEITECH Swing Impact lures is this: Outstanding packaging, great swimming action, very nice and wide selection of colors, versatile for different presentations and under the conditions I was fishing very effective. My only two minuses were the fact that I did not like the odor of the squid scent of the lures although the bass loved it and the plastic had a tendency to rip off the jig, but this was easily remedied with a little Crazy Glue. But the proof is in the pudding as they say and I caught three nice bass, one on each size in one afternoon with these puppies at Castaic Lagoon. Also it is worth noting that Castaic Lagoon is a notoriously tough lake to fish and the performance of the KEITECH Swing Impact lures goes a long way to saying that they have earned a spot in the top draw of my tackle box. I did as well with these as I have with my other favorites, Roboworms, Zoom Flukes and Senkos.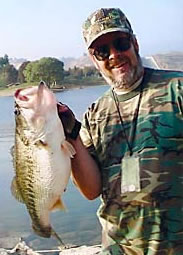 Ranking 1 – 10
(1 = poor, 10 = Excellent):

Quality 10
Durability 10
Lure Design 10
Performance 10
Overall Ranking: 10
Add another missile to the arsenal boys… In the right hands these KEITECH Swing Impact lures are deadly weapons… learn more
Keitech USA is the sole distributor of the entire Keitech product line in the United States. If you are a retail store owner and would like to carry these quality products, or if you would just like more information on the complete line of Keitech products, you can email;   Mike Czaplinski or phone: 973-398-7608
---