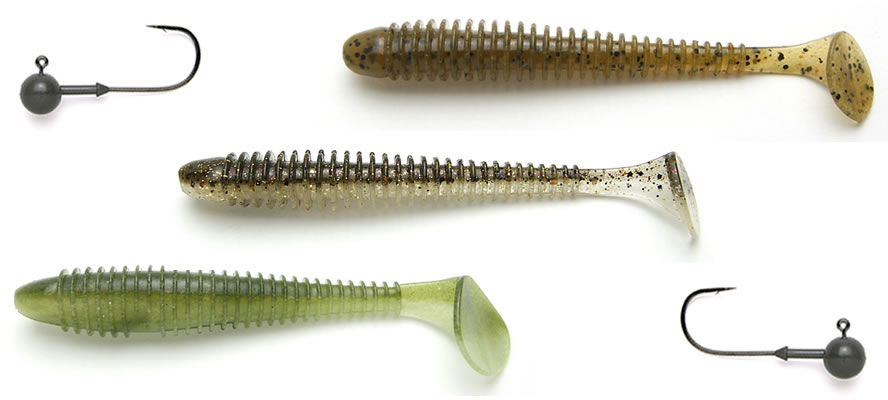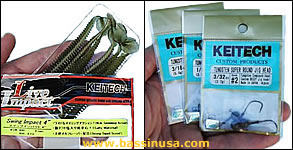 Keitech Swing Impact Swimbait 3", 4" and 4.8"
We fished these baits as swimming grubs on the long pea gravel main lake points on dart head jigs, allowing the bait to scrub the bottom or bounce along the bottom in 25 to 30 feet of water-attracting the strike from Spotted Bass and Small Mouth Bass.
The Swing Impact comes in three sizes, 3", 4" and 4.8". The 4.8 has a hook slot on the top and bottom that allows you to fish the bait weedless Texas rigged and still get good hook penetration even with the solid body. Keitech's color selection is out of this world, my personal favorites are (416) Silver Flash Minnow and (205) Bluegill.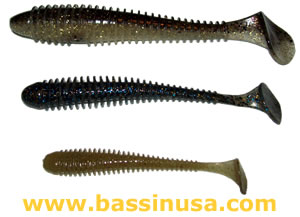 As we slow rolled this bait on the bottom of these main lake points the fish would just follow the bait back to the boat and turn off before striking the bait on a normal single tail zoom grub. Placed one of the 4.8 inch swim baits in the color of AYU on a head and started casting, not only would the fish strike the bait, they were flat eating it. The only thing I could think of was the action on the paddle tail that really attracted these fish to bite and hold on to the bait. Change really surpized myself and my client fishing with me on that day, fish really enjoyed the swim baits and made for a great day of fishing for my clients.
Keitech has a very strong swimbait and I will recommend these to my clients and tournament fishing circle.
If you enjoy fishing swimbaits, get your hands on the Keitech Swing Impact in your favorite length and color and experience what Keitech soft plastics are all about… learn more

Ranking 1 – 10
(1 = poor, 10 = Excellent):
 Quality – 8
Durability – 5
Lure Design – 10
Performance – 10
Price – 7
Overall Ranking: 8
Keitech USA is the sole distributor of the entire Keitech product line in the United States. If you are a retail store owner and would like to carry these quality products, or if you would just like more information on the complete line of Keitech products, you can email;   Mike Czaplinski or phone: 973-398-7608
---