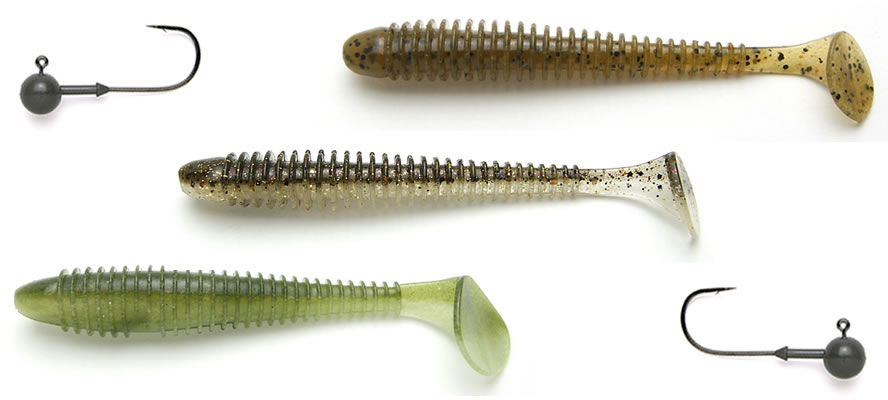 Keitech Swing Impact Swimbait 3", 4" and 4.8"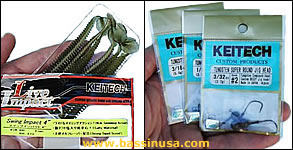 When I received the product, the first thing I noticed was this bait is not your ordinary swim bait. Instead of a smooth slick hollow bait, this one was ribbed and solid. They were also loaded with salt and had a strong scent. The scent, much like everything else with Keitech is not ordinary. It's not shad or crawfish scent, it is actually Squid. They do have the paddle tail which puts out a tremendous amount of vibration and also provides tremendous swimming action.
The Swing Impact comes in three sizes, 3", 4" and 4.8". The 4.8 has a hook slot on the top and bottom that allows you to fish the bait weedless Texas rigged and still get good hook penetration even with the solid body. Keitech's color selection is out of this world, my personal favorites are (416) Silver Flash Minnow and (205) Bluegill.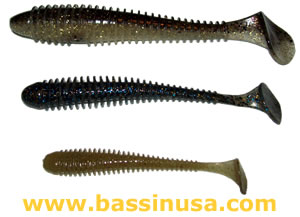 The timing of receiving the Swing Impact was perfect. It was fall and on Kentucky Lake and the fish had moved to the back of bays in the milfoil. While most people were fishing weedless frogs on top of the grass, I was fishing the Swing Impact around the edges swimming it through the deeper grass. I found this pattern much more effective for catching better quality fish. I fished the swimbait on a 6'6" medium/heavy rod, 20lb fluorocarbon line and a high speed reel. The higher speed reel allowed me to fish the bait faster and get the fish out of the grass quicker. The bait fished flawlessly, and the solid body allowed me to fish it faster without the bait rolling over and was much more durable than hollow-bodied baits. This allows you to catch more fish on a single bait.
I think Keitech definitely has another winner. I have fished other soft swimbaits such as Basstrix and Berkley and found the Swim Impact to be far superior. I could catch 3 times as many fish on this bait compared to the hollow-bodied baits.
Ranking 1 – 10
(1 = poor, 10 = Excellent):
Quality – 10
Durability – 8
Lure Design – 10
Performance – 10
 
Overall Ranking: 9.5

If you enjoy fishing swimbaits, get your hands on the Keitech Swing Impact in your favorite length and color and experience what Keitech soft plastics are all about… learn more
Keitech USA is the sole distributor of the entire Keitech product line in the United States. If you are a retail store owner and would like to carry these quality products, or if you would just like more information on the complete line of Keitech products, you can email;   Mike Czaplinski or phone: 973-398-7608
---