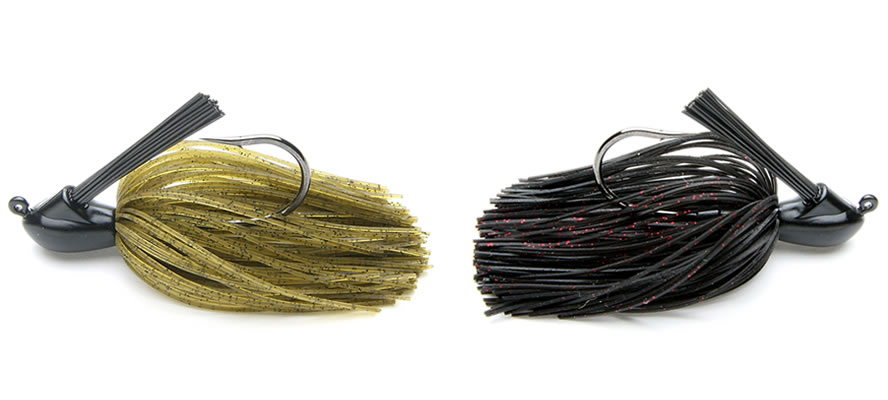 Keitech Model 1 Tungsten Jig – ½ Ounce
Keitech Large 4" All Black Trailer Black and Brown
4" Keitech Black Trailer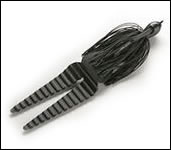 So I tied on one of the Model 1 Black and Brown ½ ounce jigs. I really was not too sure of the design of these new Tungsten heads but to my surprise they pulled through the flooded brush and cedars really well. The movement of the skirt was even more impressive by the way it came through the flooded brush. I was impressed that there was no need to trim the weed guard, as its prefect setting allowed sticks to be pushed away yet it was still light enough to allow the fish to push it away for hook sets. So I started down the first row of flooded trees pitching it to the base of every tree and placing this jig in some of the most dangerous places to put a jig and to get its foot hung in a branch. To my surprise it came back to me every time..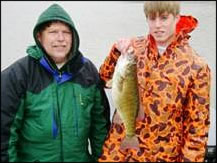 So ok, test #1 worked out pretty well, now on to test #2, some really bad flooded cedars trees. These cedars are very hard to get a jig down into them and of course get them back. Pitched into the first cedar and allowed the jig to sink down through the branches and started to work it back out and up the branches and bang first bite, just as soon as this jig moved away from the last branch a nice 3 pound Smallie sucked in the bait and swallowed it. Ok, one down keep moving on. I went down three more cedars and flipped into the last one on the bank all by itself. Let the jig go down and then I felt a very light tick, set the hook and it was a nice fat smallmouth bass in the 3.5 pound range, the tungsten head allowed me to feel this very light bite. The fish was hooked prefect right in the upper part of the mouth, which tells me the jig rolled perfect in the fish's mouth and the weed guard did its job!
Now I have two good fish on this jig so far, now on to another real test… fishing the flat rock points and slow dragging the bait through mixed rock. This was even more impressive because I could feel everything with this jig, I could even feel what type of rock I was working it through. From Chunk rock to pea gravel the sensitivity was very impressive to say the least. No takers on this pass but with all of the flooded water I really did not expect to find them out there.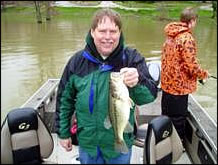 Ok, one last test to see if this jig can really hold up in all types of fishing pressures, so I tied them on to a client rod and went out on a half day afternoon guided trip with a group from Kentucky that same day. We went back out and started flipping the shaded areas of the dock stalls with these jigs, were not even 30 minutes into our trip and my client set the hook on first of many fish. Nice Black Bass was sitting there under the dock and could not take the jig and trailer going by him. We fished three more docks and caught three more fish all on the same jig. This one jig out fished the other jigs we had tied on three to one (3:1) because of the increased feel of this tungsten jig. My client even told me he could feel everything much better than the lead headed Eakins jig the rest of us were using in the same area. By the way I was the only person in the group that even caught a fish on the lead headed jigs because I'm a line watcher and my other client did not understand the importance of watching the line where it enters the water. This Tungsten Head is worth its weight in gold!!
Rating:
How would I rate this jig:  In overall performance a solid 9 out of 10, as for my client he rates it a solid 10!
Nice jig and trailer combination need to get some of the small jigs and give them a try when our water goes back to gin clear. Very impressed and I have fished a lot of jigs and have never written a review like this on jigs!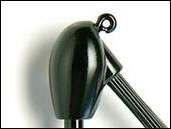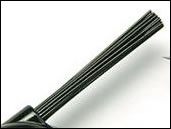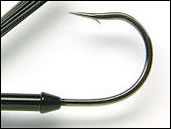 Strong Points:
1) Great feeling with superb sensitivity
2) Great weed guards with no need for trimming.
3) Tungsten heads with no lead
4) Well Built skirts with great movement a soft plastic but with not too soft as no pull off as it came through the brush.
5) Very Sharp Hook, I mean really sharp, with a great bend to hold the trailers and easy of hook set.
6) Easy to tie on line to head of jig, very clean paint job on head no need to clean eye before tying on line.
Weak Points:
1) Paint on Head started to come off after a good hard day of flipping and pitching into everything I could find.
2) Pricey with the Tungsten head, just about twice the cost of the lead head jig that I use now, but worth it.
3) Need room for rattles or rattles built in to head or on the back of the hook.
Overall Ranking (1 – 10): 9
Until next time good fishing everyone. Capt. Don House…. learn more

Keitech USA is the sole distributor of the entire Keitech product line in the United States. If you are a retail store owner and would like to carry these quality products, or if you would just like more information on the complete line of Keitech products, you can email;   Mike Czaplinski or phone: 973-398-7608
---